Perhaps one of the most emotionally-charged kinds of car accidents that you can get into would be the hit-and-run. Imagine that you're minding your own business, cruising along the highway in California's capital city, and out of nowhere, a car sideswipes you, denting the exterior and ripping the side mirror off its hinges. Worse yet, the driver decides to speed off and vanish into traffic.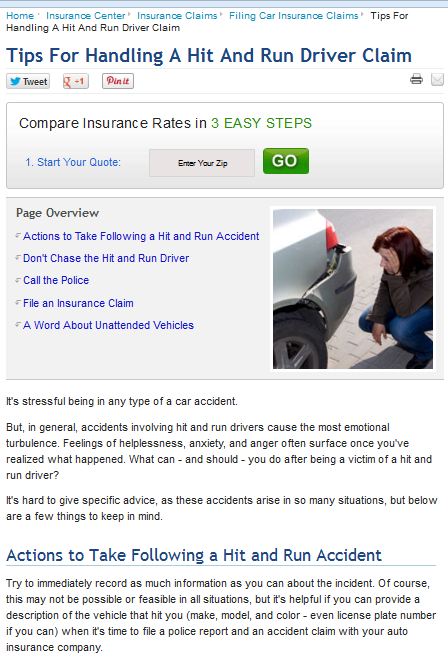 In this case, you should contact your insurance agent as well as your reliable auto accident attorney in Sacramento. Record as much as you can about the incident; if you think that your memory of the important details isn't too reliable, just write them down as accurately as you can. Note the design, make, and color of the car, etc; and while you're at it, look for some witnesses whose testimonial could corroborate with your story.
Regardless of the surge of emotions that may plague you the moment you are hit, DMV.org advises never to give chase to the perpetrator:
You can't be sure what the other driver may be thinking, or what sort of action will be taken once you've been spotted. Plus, your adrenaline may cause you to drive without your usual caution, and you might create your own accident.
Instead, call the authorities and file a proper incident report (your personal detailed recording will help you a lot). Nevertheless, even if you don't have a lot of information to give, file a report anyway, as this could hasten the process of claiming auto accident damages from your insurance policy, or in filing a lawsuit.
Should the offending driver turn out to be underinsured to pay for the amount of damages that your car sustained, or if he is simply uninsured, the services of your dependable Sacramento auto accident attorney, like one from Carter Wolden & Curtis Law Firm, should help you out. The California insurance code states that your policy needs to include underinsured and uninsured motorist coverage.
Having a dependable attorney on your side will help you succeed in claiming for damages against the driver who damaged your car. Remember, though, that you should be able to give enough information about the incident and file the appropriate police incident report first.
(Info from Tips for Handling a Hit and Run Driver Claim, DMV.org)