Medical professionals work to preserve people's health. They help us recover from illness or injuries, and in serious cases they occasionally have to tread the boundary between life and death. When human error strikes, however, there can be serious repercussions that lead to the condition of their patients worsening. If you are in such a situation, you should look into hiring a reliable Sacramento medical malpractice attorney for help.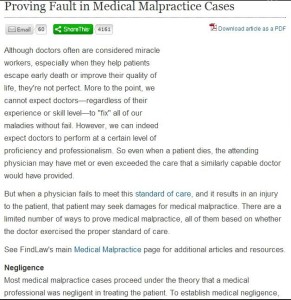 General Principles
Most of the time, a medical malpractice case arises out of the assumption that the injury was directly caused by a medical professional who was negligent in performing his duties. To prove this, the plaintiff must show that the defendant indeed had a duty over the plaintiff's health, and that he breached the necessary standard of care required by his duty.
Informed Consent
Every medical professional who prescribes a medication or treatment for his patient should see to it that the latter is informed of all the risks and possible effects of the prescribed treatment– this is referred to as 'informed consent'. If the health care provider should fail to get the informed consent of his patient, he may be liable for medical malpractice should the patient be injured.
Breach of Warranty
For cases when the doctor promises specific results to his patients, he might be held liable for malpractice based on breach of contract or warranty should the treatment fail to deliver its intended purposes and cause harm to the patient. An example would be a plastic surgeon promising to improve the patient's face and the treatment ends up distorting it.
Res Ipsa Loquitor
According to Findlaw.com, this is an excellent legal doctrine that can help you when faced with a difficult-to-prove medical malpractice case:
If a patient injured as the result of a medical procedure does not know exactly what caused his or her injury […] he or she may invoke a legal doctrine known as "res ipsa loquitur." Translated, this Latin phrase means "the thing speaks for itself," and implies that the plaintiff need only show that a particular result occurred and would not have occurred but for someone's negligence.
An efficient Sacramento medical malpractice lawyer from firms like Carter Wolden Curtis should be able to help you find proof of fault in a malpractice case. Contact them today for a free analysis of your case with one of their experienced attorneys.
(Article Excerpt and Image from Proving Fault in Medical Malpractice Cases, FindLaw)