Is it possible to for a dog to racially profile? Police dogs are trained in suspect pursuit operations and will take down their quarry as directed by their handler. Therein lies the potential problem with police dogs- the handler. As the Los Angeles Times' Tim Walker reports, strange things can happen:
A new report focusing on the Canine Special Detail of the LA Sherriff's [sic] Department (LASD) has uncovered a vast increase in the number of minority individuals bitten by police dogs since 2004.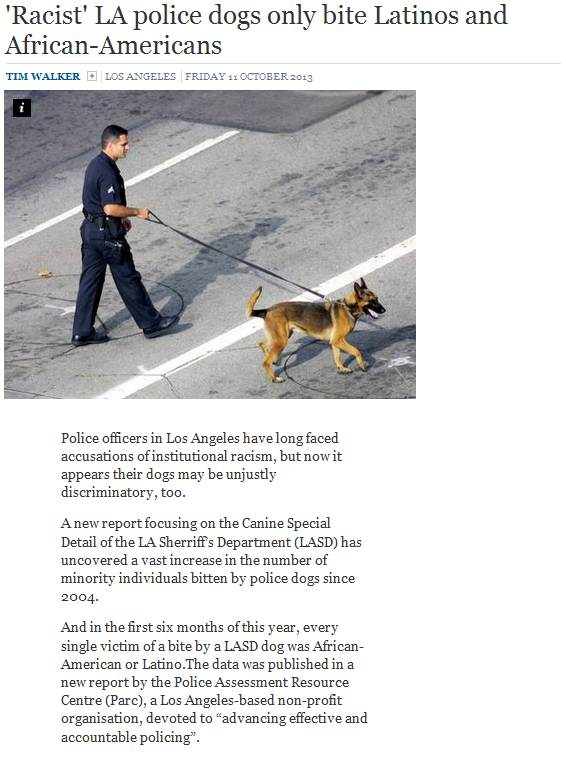 And in the first six months of this year, every single victim of a bite by a LASD dog was African-American or Latino. The data was published in a new report by the Police Assessment Resource Centre (PARC), a Los Angeles-based non-profit organization, devoted to "advancing effective and accountable policing".
What's happening down in Southern California may raise some eyebrows in the melting pot that is Sacramento, CA. According to the 2010 US Census, 16.6% of Sacto's population are African-American, while 26.9% are of Hispanic or Latino lineage. While there are organizations that specialize in training K9 dogs for police use, they are still animals. A massive German Shepherd and can inflict serious harm on its victim. If you find yourself the on the receiving end of this or any other dog attack you should seek the counsel of a professional Sacramento dog bite lawyer like Cliff Carter of Carter, Wolden, and Curtis LLP.
The PARC report contends that LASD dog bites against Latinos from 2004 to 2012 rose 30%. A tally of bitten African-American individuals saw an increase since 2004 of 33%. This year alone was no respite; of the dog bites that were recorded from January to June– all those bitten were either African-American or Latino.
An injury lawyer who is knowledgeable in dog bites will have the relevant information to help determine if the dog handler is liable and will be aware of the legal challenges to address. This applies whether the dog is owned by a private citizen, private entity or a government agency. A provision in California Civil Code section 3342 states that a governmental agency like the police can be sued for dog bite liability in certain if the victim was not part of circumstances that prompted the canine's deployment.
Besides the police force, many of the general population in Sacramento communities have dogs. If have been attacked or bitten, a dog bite attorney in Sacramento at a reputable law firm such as at Carter, Wolden, and Curtis will seek justice in any way possible.
(Info from 'Racist' LA police dogs only bite Latinos and African-Americans, The Independent, October 11, 2013)