Your life changes dramatically when you become a parent. You do the best you can to protect your child. Unfortunately, circumstances out of your control can have sad consequences for your child. Lonnie Wong of FOX40 News reports: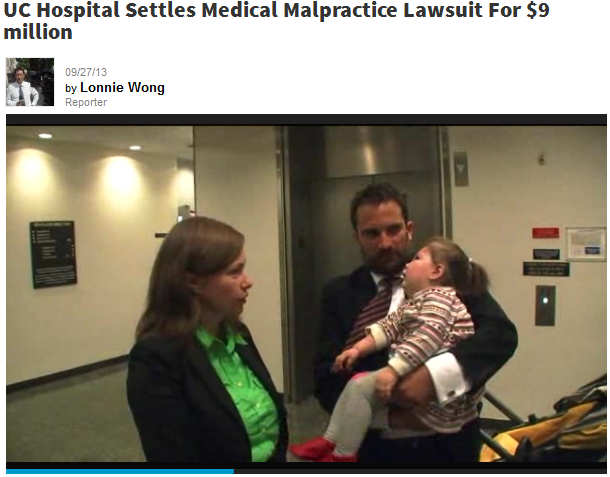 Sacramento Superior Court judge Shelleyanne Chang approved an out-of-court settlement giving the parents of Leah Gumb $9 million for her care. The 20 month old girl was born at the UC Davis Medical Center with permanent brain damage.
"It allows us the best chance at the best quality of life she can have," said the girl's mother Jenny Kaminer said of the settlement.
The delivery of a baby is already a delicate situation for the attending doctors, the mother, and her child. Wong reports that Jenny Kaminer gave consent to a C-section, which may have resulted in the baby being born with all physical and mental functions intact. She had been in labor for roughly seven hours, but the doctors claimed that after being advised that they noticed the placenta could not channel enough oxygen for the proper brain function she rejected requests for a C-section.
With thousands of patients and a large number of healthcare providers, mistakes and foul-ups in medical procedures can and do happen to residents of Sacramento, CA. Sometimes these have rather minor consequences but sometimes they can be devastating and life altering. If you notice some alarming things happening to your loved one after receiving medical treatment, it would be wise to seek help from a trusted Sacramento medical malpractice attorney like the team at Carter, Wolden, and Curtis LLP.
A skilled Sacramento medical malpractice lawyer will work on the facts of the case and determine the size of the damages to be sought. Jenny Kaminer and her husband, Christoph, settled for a sizeable sum to help them pay for the lifelong care their daughter will need; California state law marks a maximum $250,000 compensation for "pain and suffering," while the rest of the money is Leah's lifetime annuity.
Everyone wants their children to live life in the best condition. If a medical practitioner may have had something to do with your loved one's woes, a knowledgeable law firm like Carter, Wolden, and Curtis will advocate for you.
(Info from UC Hospital Settles Medical Malpractice Lawsuit For $9 million, FOX40, September 27, 2013)