Sending an elderly loved one to a nursing home is never an easy decision; often, you would much rather take care of them yourself. Still, juggling a career and rearing your own family leaves you with little time or energy to take on this added responsibility, which is why many children reluctantly put their aging parents in retirement facilities.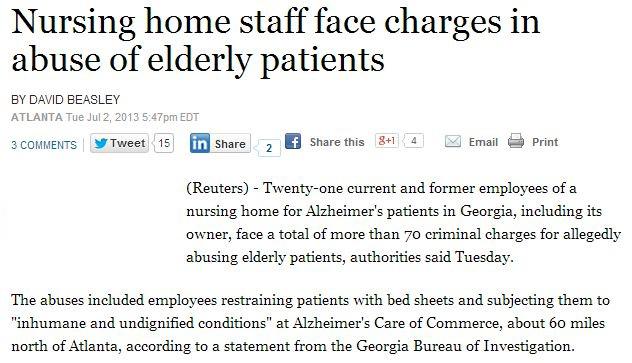 Concerns about having someone else take care of your senior beloved, however, may be well grounded— according to the Special Investigations Division of the House Government Reform Committee, one in three nursing home residents are abused. In fact, last July, 2013, staff members of a Georgia nursing home were charged for hurting their patients, as this article from Reuters.com reports:
"Twenty-one current and former employees of a nursing home for Alzheimer's patients in Georgia, including its owner, face a total of more than 70 criminal charges for allegedly abusing elderly patients, authorities said Tuesday.

The abuses included employees restraining patients with bed sheets and subjecting them to "inhumane and undignified conditions" at Alzheimer's Care of Commerce, about 60 miles north of Atlanta, according to a statement from the Georgia Bureau of Investigation.

"There were accounts of physical abuse, such as staff members striking patients and throwing water on them," the statement said."
Nursing home abuse, at its core, is medical malpractice; that is, staff members are unable to provide the standard of care that elderly patients deserve. Of course, proving abuse is not always easy, since you're not there to see the abuses yourself; sometimes, the elderly may be too afraid or embarrassed to even confide the abuse to you. Others might also have Alzheimer's Disease or other forms of dementia that make it difficult to ascertain ill treatment.
If you suspect that your elderly loved ones are being abused in nursing homes, make sure to contact Sacramento injury attorneys like those at Carter Wolden Curtis, LLP immediately. With their help, you can prove the wrongdoings committed by erring personnel and seek damages for any injury caused to your loved one.
Everyone deserves to be treated with dignity in their old age, but nursing home abuse is a sad reality that many retirees and their families face. Thankfully, a Sacramento injury lawyer can help you seek adequate recompense for the physical and emotional pain that neglectful staff members inflict.
(Article Information and Image from Nursing home staff face charges in abuse of elderly patients, Reuters.com, July 02, 2013)