Just because you are certain the road accident in Elk Grove you've just been involved in is not your fault doesn't mean you are guaranteed victory in your personal injury claim. From being the victim, you might turn out to be the one at-fault and even liable to pay compensatory damages. In his article for ABCActionNews.com, William Abel provides tips on how accident victims can increase their chances of obtaining fair compensation for injuries and damages.
"Be Accurate About Your Medical History. If you have had medical treatment to your low back before an accident and then suffered a new back injury from an accident, it is extremely important that you tell all of your doctor about your prior low back symptoms and treatment. The law allows you to bring a claim if an accident worsened (aggravated) a pre-existing medical condition, but juries look harshly upon people who are not truthful…

Communicate With Your Attorney. Whenever you plan on seeing a new medical doctor or getting new tests or radiological studies, let your attorney know. Your attorney is there to help guide you through the process, but they cannot do that if you do not keep them informed. Additionally, if you decide to apply for disability benefits or for government assistance, it is critical that your attorney be part of that process…"
As the plaintiff, you want to prove that the defendant is guilty of breaching a legal duty that resulted in harm to you. The most tangible evidence you can show are the injuries you sustained. A seasoned Elk Grove personal injury lawyer from a reputable firm like Carter Wolden Curtis can then determine your claim's worth and work hard to ensure that you get compensated.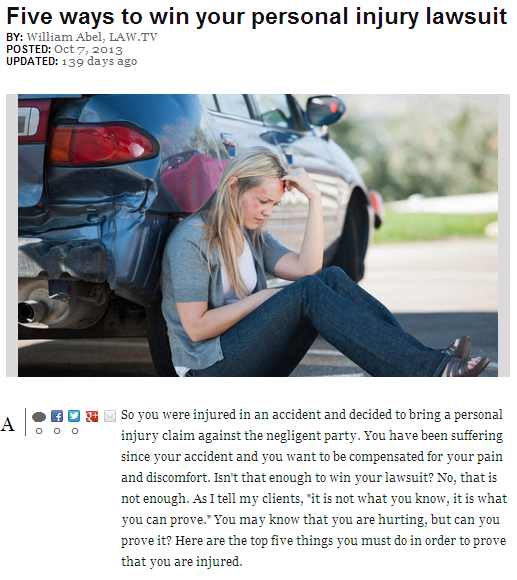 Car accident injuries may range from a few scratches to broken bones, some leaving long-term repercussions. In cases involving crippling injuries, competent Elk Grove personal injury lawyers fight to have their clients compensated throughout their lifetime. Such a claim can be granted by the court provided sufficient evidence can be presented to establish that the plaintiff's injuries are accident related.
(Source: Five ways to win your personal injury lawsuit, ABCActionNews.com)