According to statistics compiled by the National Highway Traffic Safety Administration of the US Department of Transportation, nearly 11 percent of all traffic accidents in the US involve a motorcycle. According to the CDC, roughly 175,000 motorcyclists were injured in 2008.
As the above statistics show, thousands of motorcyclists sustain injuries each year when they are involved in accidents. These injuries can easily result in extensive medical bills, emotional turmoil, and lost wages. As such, motorcyclists that have been injured due to an accident caused by the negligence of another driver are entitled to financial compensation.
Remember, however, that some insurance companies may try to take advantage of a person who has sustained motorcycle accident injuries by offering financial compensation that is significantly lower than what the person should receive. With that in mind, it is important to hire an experienced Sacramento motorcycle accident lawyer to help you claim what is rightfully yours.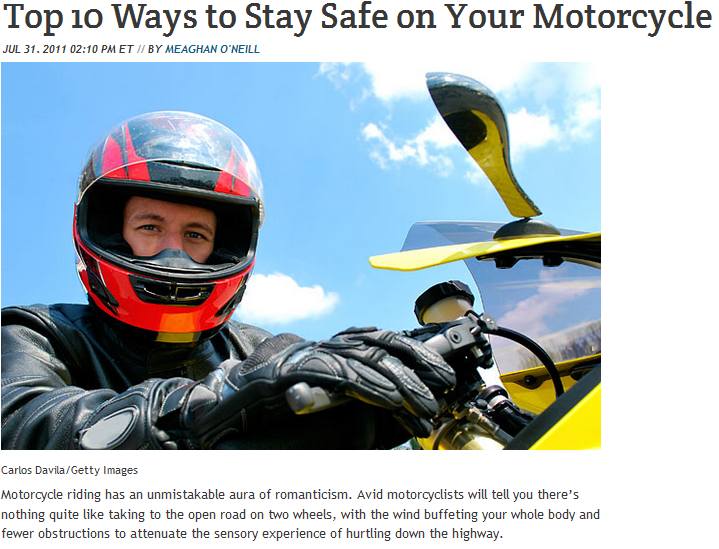 Although hiring a motorcycle accident lawyer who can help you claim proper compensation is important, staying safe on the road is equally vital. By following these tips from Discovery News, you can stay safe on the road and avoid having to undergo traumatic injuries:
"In about 70 percent of two-vehicle accidents involving motorcycles, the driver of the passenger cars just don't see the two-wheeler, according to Motorcycle Cruiser.com.

Make yourself as visible as possible. Most motorcycle stores sell high-visibility safety vests with neon colors and reflective strips that stand out much better than black leather jackets.

Wear solid motorcycle boots to prevent exhaust pipe burns and painful toe strikes. Protect your hands with thick gloves, and your arms and legs with good-quality gear…

Whatever your stance on helmet use might be, the empirical data on helmet effectiveness are hard to argue with. In 2008 alone, helmets saved the lives of nearly 2,000 motorcyclists…

If you're feeling very distracted, emotional, sick or just tired, you're better off leaving the bike in the garage until you find your happy place again. Otherwise, you're far more likely to make a tiny mistake that can have huge consequences."
Whether you are on the road or off of it, it's imperative that you keep yourself protected at all times. If you ever find yourself involved in a motorcycle accident caused by another driver's negligence, be sure to contact a reputable Sacramento motorcycle accident attorney from firms like the Carter Wolden Curtis Law Firm to help you get the compensation you deserve.
(Article Excerpt and Image from Top 10 Ways to Stay Safe on your Motorcycle, Discovery News, July 31, 2011)