A Nolo article provides some sensible insights as to whether or not a car accident warrants the services of an attorney. The article explains that while accident victims can handle routine claims involving small amounts on their own, a lawyer's expertise should come in handy when the stakes are high.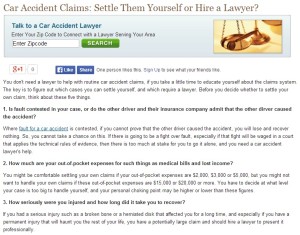 If you had a serious injury such as a broken bone or a herniated disk that affected you for a long time, and especially if you have a permanent injury that will haunt you the rest of your life, you have a potentially large claim and should hire a lawyer to present it professionally.
Over a hundred cases of fatal road accidents are recorded in Sacramento, California each year. Accident victims who suffered considerable injuries and damages will need a Sacramento car accident lawyer to present their case in court and defend their right to fair and accurate compensation. Interestingly, the law permits plaintiffs not to hire a lawyer on the condition that they orient themselves on the protocol when it comes to presenting a case in court. However, often this is not advisable and definitely not if the fault of the accident is contested:
"If you cannot prove the other driver caused the accident, you will lose and recover nothing. So, you cannot take a chance on this. If there is going to be a fight over fault, especially if that fight will be waged in a court that applies the technical rules of evidence, then there is too much at stake for you to go it alone…"
Even if you are using an attorney, as a plaintiff you also need to do your part in strengthening an accident claim. For instance, if you get into a car collision, it would be wise to take photos of the accident scene and gather information from the other party (or parties) involved. Collect medical records that can prove your injuries, including receipts and medical certificate, so you can provide your Sacramento car accident attorney with the information need to build a solid case.
Meanwhile, if your injury is severe enough to affect your livelihood, don't be reluctant to hire a lawyer from a reputable group like the Carter Wolden Curtis Law Firm. With a highly competent accident lawyer hard at work on your case, you can then focus on your recovery.
(Article Excerpt and Image from Car Accident Claims: Settle Them Yourself or Hire a Lawyer?, Nolo)