Ever since the Medical Injury Compensation Reform Act (MICRA) was enacted in 1975, Californians have found it more difficult to secure a good medical malpractice charge with their dependable Sacramento personal injury attorney. In essence, the law is made to protect the career of doctors, as malpractice cases during this time often had patients winning and claiming steep damages over their medical practitioners.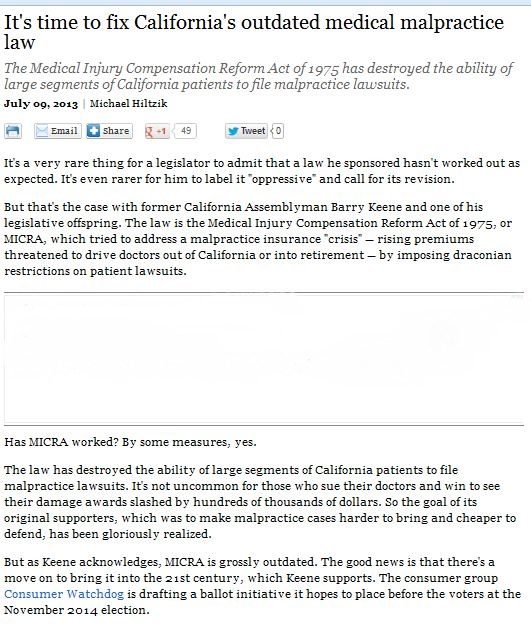 According to LA Times, the law worked in part because:
The law has destroyed the ability of large segments of California patients to file malpractice lawsuits. It's not uncommon for those who sue their doctors and win to see their damage awards slashed by hundreds of thousands of dollars. So the goal of its original supporters, which was to make malpractice cases harder to bring and cheaper to defend, has been gloriously realized.
However, as proponent (and former California Assemblyman) Barry Keene himself acknowledges, this law is incredibly outdated. One point he stressed in particular is the fact that the law imposed a cap of $250,000 for all damages (including pain and suffering, lost wages, etc) without accounting for inflation (by which it should be more or less $1.1 million today).
The problem with the old law is the fact that it significantly cuts down on the damages to be awarded (in some cases even as much as 71%) only to meet the set amount, causing many lawyers to lose interest in patients' cases. One such is the issue of Cali Andrist, whose case was denied by fifteen attorneys before it was finally accepted as a pro bono case.
Thankfully, when the ballot initiative for the new law during the November 2014 elections yields positive results, patients in California will once again be able to easily get the justice and the compensation that they deserve. Should you decide that you need to file a medical malpractice case, you can count on businesses like the Carter Wolden Curtis Law Firm.
Laws should protect the rights of citizens equally, and should a piece of legislation prove ineffective in this regard, it should be subject to amendment. Moreover, the trusty Sacramento personal injury lawyer should see to it that his client gets what he deserves.
(Info from It's Time to Fix California's Outdated Medical Malpractice Law, LA Times, July 9, 2013)