For enthusiasts, nothing is easier and more enjoyable than navigating the busy streets of Sacramento on a motorcycle. However, while a motorcycle no doubt offers exhilaration, speed and convenience, it can turn unsafe if your bike has manufacturing defects that weren't detected in the production or assembly line. Edgar Snyder of RoadRUNNER Motorcycle Touring & Travel takes a look at the most common motorcycle manufacturing defects.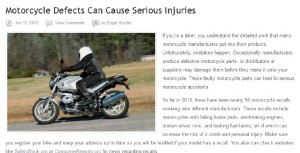 Brake Failure: Some motorcycle recalls have occurred because brake pads have malfunctioned, leading to a sudden loss of braking efficiency and increase in stopping distance.
Engine Failure: In March, a motorcycle manufacturer had to recall many of their police motorcycles used for patrolling because the additional police accessories were causing a main fuse to blow, stalling the engine and increasing the risk of a crash.
Fuel Tank Malfunctions: Another motorcycle manufacturer recalled almost 1,000 of their motorcycles earlier this year because drying raw materials were causing fuel leaks. An ignition source near a fuel leak created a fire risk.
Handlebars: A motorcycle manufacturer had to recall over 1,000 motorcycles last year because improper heat treatment was causing handlebar clamps to crack, allowing the handlebar to move from its set position. This unexpected movement could have caused riders to lose control and crash.
Motorcycle manufacturers must ensure that appropriate quality tests are done to spot possible errors with brake systems, engines, and other components. Products with such defects shouldn't be released into the market. However, some manufacturers fail to conduct sufficient testing and quality checks and inadvertently sell defective products. Most of the time, however, it is not until an out-of-the-blue accident happens that a product defect is discovered.
Accident victims who suspect a product defect can file a case against the manufacturers with the help of an experienced Sacramento motorcycle accident lawyer to obtain compensation for injuries, medical expenses, and loss of earnings. To build a strong case against the manufacturer, a qualified mechanic must be called in to prove that the motorcycle involved in the accident was indeed defective. Other things that can serve as evidence include purchase documentation and the owner's manual that came with the motorcycle.
Being the victim of a motorcycle accident due to product defects is a difficult experience, to say the least. However, with the help of a trustworthy motorcycle accident attorney in Sacramento from a trusted law firm like Carter Wolden Curtis, LLP, plaintiffs can take erring manufacturers to task for negligence and receive the compensation they deserve.
(Article Excerpt and Image from Motorcycle Defects Can Cause Serious Injuries, RoadRUNNER Motorcycle Touring & Travel)