Car accidents occur almost every minute on the roads of the United States, with a few ending in fatal loss or injuries. In California alone, almost 3,000 fatal accidents were recorded in 2012, which can be alarming to the residents of the state's busy cities like Sacramento. To make things worse, a large number of motor vehicle accidents involve uninsured drivers, putting your claim for damages at risk of delay or even failure. If you are involved in an accident caused by the negligence of an uninsured driver, you may get some useful information about liability from an article in CarsDirect.com.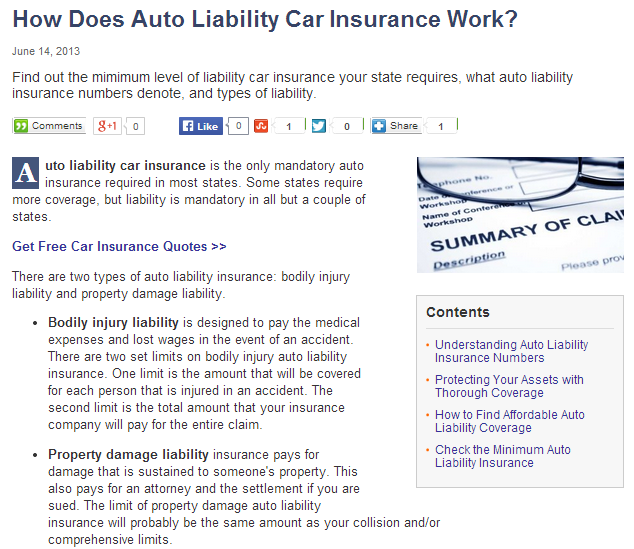 The article defines two types of liability insurance. "Bodily injury liability is designed to pay the medical expenses and lost wages in the event of an accident." Property damage liability insurance, on the other hand, "pays for damage that is sustained to someone's property. This also pays for an attorney and the settlement if you are sued."
While California laws require that each driver carries liability insurance, not all drivers comply with this law. If you have an uninsured or underinsured motorist coverage, your own insurance company can pay for the expenses relating to the damages or injuries you sustain from the accident. However, filing for claims is not always an easy process, and you may find yourself having to deal with an insufficient claims amount.
Before you agree to an undue settlement with an insurance company, it is best to consult with an auto accident attorney in Sacramento. The details surrounding uninsured or underinsured motorist coverage can be confusing, particularly to those unfamiliar with insurance proceedings. A seasoned lawyer like those at Carter Wolden Curtis law firm can help you fight for the compensation amount that is rightly due to you.
The services of a reliable Sacramento auto accident attorney is even more critical when you do not have an uninsured/underinsured motorist coverage. Before giving up on receiving any kind of compensation for your losses or injuries, consult a lawyer for guidance on what to do next.
(Article Information and Image from How Does Auto Liability Car Insurance Work?, CarsDirect.com)