A Property Casualty 360 article published October 9, 2013 details a change in California worker's compensation law that affects professional athletes seeking financial support from the state's legislation:
California Governor Jerry Brown has formally signed a bill limiting professional athletes from receiving workers' compensation benefits in California if they live and play predominantly outside the state. 

The bill, AB1309, which received bipartisan support as well as that of sports organizations such as the National Football League, was proposed in 2012 by Assemblyman Henry T. Perea (D-Fresno) to prevent out-of-state athletes from "unfairly targeting" California's WC system.

"This new law sets reasonable standards to close an expensive loophole unique to California and to professional sports," says Dennis Kuhl, chairman of the Los Angeles Angels of Anaheim. "This change isn't just good for California baseball teams—it's good for all California businesses and their workers and ensures that our workers' compensation system is there for in-state players."
The development brought varied reactions from the parties involved, and served as a reminder of the importance of proper representation through a trusted workers' compensation attorney in Sacramento.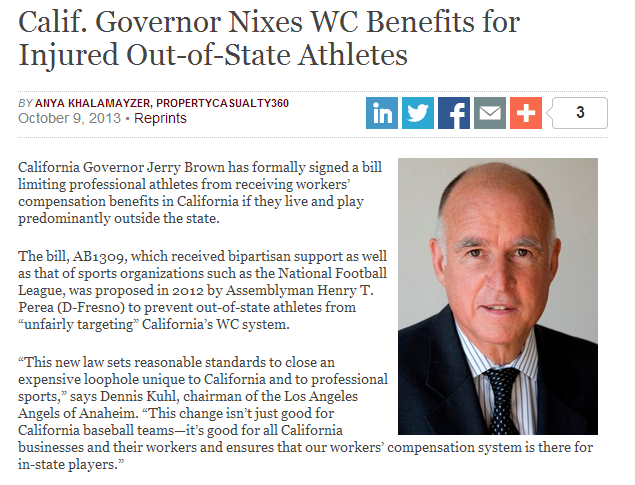 The amendment to the WC system of California legislation for athletes means that professional athletes must have spent a substantial amount of time inside the state before they can become qualified for benefits from the state's workers' compensation system.
While many do not find the recent statute significant, it is important to note that out-of-state employees can qualify for California's WC benefits if they fit under several conditions. If an out-of-state employee is covered by his/her employer, they can file a claim for a California WC benefit as long as the other state recognizes the provisions of the California legislation and are exempted from the application of any similar policies in that state.
This is why reliable workers' compensation lawyers in Sacramento, CA are called upon to represent an employee filing for a claim. This move by the Californian government is only one of many complexities involved in workers' compensation cases, and it pays to be represented by a lawyer who pushes for your interests.
Workers' compensation is a battle of rights after a sustained injury, and athletes and workers alike should be rightfully entitled to beneficial claims. Interested individuals can get a free case review from reliable firms like Carter Wolden Curtis to learn more about their current situation.
(Article Excerpt and Image from Calif. Governor Nixes WC Benefits for Injured Out-of-State Athletes, Property Casualty 360, October 9, 2013)