In an article on Sacbee.com, police officer Doug Morse details the collision between a cyclist and a city garbage truck that took place last October 23. The cyclist was identified as an adult man who was severely injured and taken to the hospital for immediate treatment. The police made it clear that it was purely a "tragic accident" and they did not believe any crime had been committed.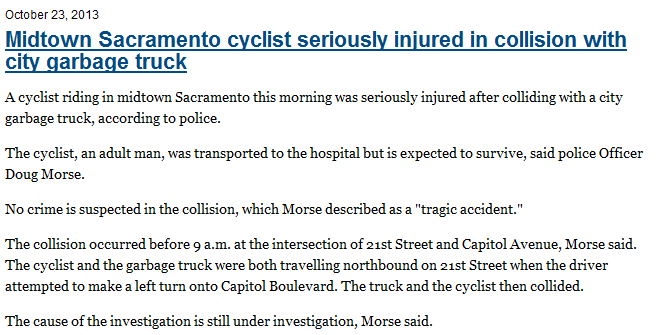 Below are the details of the accident as reflected in the article from Sacbee.com:
The collision occurred before 9 a.m. at the intersection of 21st Street and Capitol Avenue, Morse said. The cyclist and the garbage truck were both travelling northbound on 21st Street when the driver attempted to make a left turn onto Capitol Boulevard. The truck and the cyclist then collided.
It was also stated that they are still investing the cause of the accident. This is a situation where it would it would be highly advicable to seek the services of a reputable Sacramento personal injury attorney for further advice. An attorney can analyze the matters of the case and look out for your best interest.
It is always recommended that you ask for a report from your doctor documenting the injuries that are obtained from an accident. Though the treatment was not detailed out in this case, the cyclist had to go to the hospital and receive treatment and likely surgery – needless to say, this can cost thousands of dollars. A seasoned Sacramento personal injury lawyer, like the ones practicing at Carter Wolden Curtis Law Firm, know very well that if they have the necessary documents; they can help you get the appropriate compensation from the insurance company.
According to experts, a lot of people tend to have clouded judgment when faced with injuries, thus they resort to a settlement with the insurance company which can prove to be disadvantageous. They think that the initial offer is more than enough to compensate for their injury and inconvenience, but they could have actually gotten more if they had only had a professional analyze the situation. Personal injury lawyers can negotiate better with insurance companies and thus get the plaintiff the best compensation from the situation.
If you know you have an injury from an accident, even if it is not as serious as the one described in this article, you should consult with a personal injury lawyer right away. The insurance companies are looking out for their best interest, not yours. Carter Wolden Curtis Law Firm is one of the established names you can trust, servicing areas in Sacramento, Elk Grove, and Roseville.
(Article and image excerpt from Midtown Sacramento Cyclist Seriously Injured in Collision with City Garbage Truck, The Sacramento Bee, October 23, 2013)