You need to be financially responsible to be able to drive a vehicle in California. Among other things, state law requires motorists to purchase auto insurance liability coverage. However, Leslie Scism of the Wall Street Journal writes that some drivers simply do not adhere to this requirement.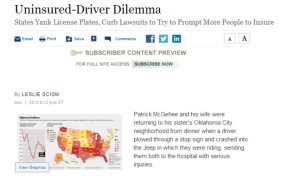 An estimated 14% of drivers nationally are uninsured, according to the industry-funded Insurance Research Council—a chronic problem that states have been unable to solve. While auto insurance has been mandated in most states for decades, lawmakers and insurance regulators say they feel increasing pressure to tackle the problem, which results in higher rates for drivers who do follow the law.
Many have decided that the traditional deterrent—the threat of fines—isn't enough. In search of alternatives, states are experimenting with the use of databases to better identify the uninsured, programs that remove the license plates from vehicles driven by offenders and "no pay, no play" laws that restrict the ability of uninsured drivers to sue for damages after accidents.
Most states require liability coverage to pay for any damage and injuries caused by the driver. A bare-bones liability policy costs about $500 a year nationwide on average—while fines for not having liability coverage typically range from $100 to $500, according to trade groups.
If you do happen to get hit by a negligent driver, you should make an effort to get that other driver's insurance information. By enlisting the services of an auto accident attorney in Sacramento, accident victims can then file an insurance claim with the at-fault driver's insurance company and later be awarded fair compensation. However, things can get problematic if the one responsible for the accident doesn't have insurance. In tort states, accident victims can sue liable parties to obtain compensation.
California, however, is a no-fault state, and this means that accident victims can't file a case against erring drivers. Instead, victims can obtain compensation through their own auto insurance company—provided they have uninsured motorist coverage, that is. Since such a policy is not required by law, it is highly recommended that motorists who desire this protection get uninsured motorist coverage and thereby preserve the chance to receive compensation for injuries or property damage. In the unfortunate event that you do not have uninsured motorist coverage and get into an accident with an uninsured driver, you can seek legal help from a qualified Sacramento auto accident attorney.
Auto insurance exists for a good reason. Don't get the short end of the stick and be ready for any eventuality. You can turn to a reputable law firm like Carter Wolden Curtis, LLP for quality legal services.
(Article Excerpt and Image from Uninsured-Driver Dilemma, Wall Street Journal, 1 December 2013)