A Sacramento Business Journal article published December 16, 2013 reports how a Sacramento couple received compensation against a trucking company that did them bodily harm:
A Sacramento County jury handed down a record personal injury verdict of $34.9 million on Dec.6 to a Galt man and his wife, who suffered a head injury and was paralyzed from the waist down when a semi truck crossed the center line and plowed into her bus.

Personal injury claims were made against Silva Trucking Inc. of French Camp and semi operator Elaine McDonold, after the October 11, 2010 accident. A total of $31.9 million was awarded to Debra Hackett for personal injury; $3 million was awarded to Bill Hackett for loss of consortium.

"It's a heartwarming result," said plaintiffs' lawyer Robert Buccola of Sacramento. "Sacramento juries don't award judgments like this. You really have to convince them beyond a reasonable doubt."
The success of the Hacketts, which resulted in one of the biggest injury payouts in the history of the city, shows how vital quality Elk Grove personal injury lawyers are in the pursuit of justice.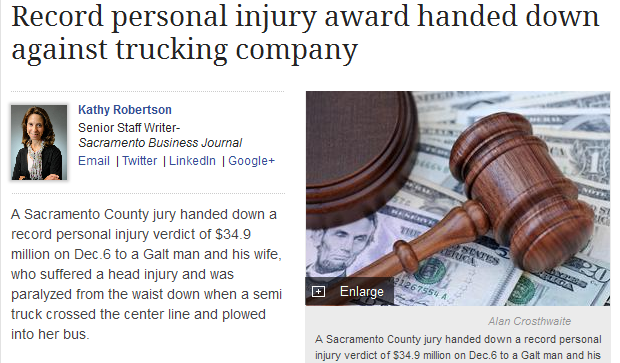 California lawyers look for negligence when it comes to personal injury cases, as this criterion will determine the guilt of the defendant and the damages to be paid if the defendant is indeed found guilty. A reliable personal injury lawyer will be able to help build a strong case in front of the judge and jury to swing them to the plaintiff's favor.
It is important to note that the Hacketts and Silva Trucking have met twice outside the courts to settle for a monetary amount, which ended up in failure. After failing to meet at a financial medium, the matter was taken to court. Off-court settlements are another thing that a reliable Elk Grove personal injury lawyer can do for the client.
A personal injury trial is a long and arduous road that can take its toll on all the parties involved. Due to this fact, a lot of people try to settle these issues outside the courts. With adequate legal representation, a client can be assured that his or her interests are put forward, nd any settlements made will be in his or her best interests.
Anyone who has endured injury due to carelessness should not stay silent. Victims should contact reputable firms like Carter Wolden Curtis to know what to do should it ever happen to them.
(Article Excerpt and Image from Record personal injury award handed down against trucking company, Sacramento Business Journal, December 16, 2013)