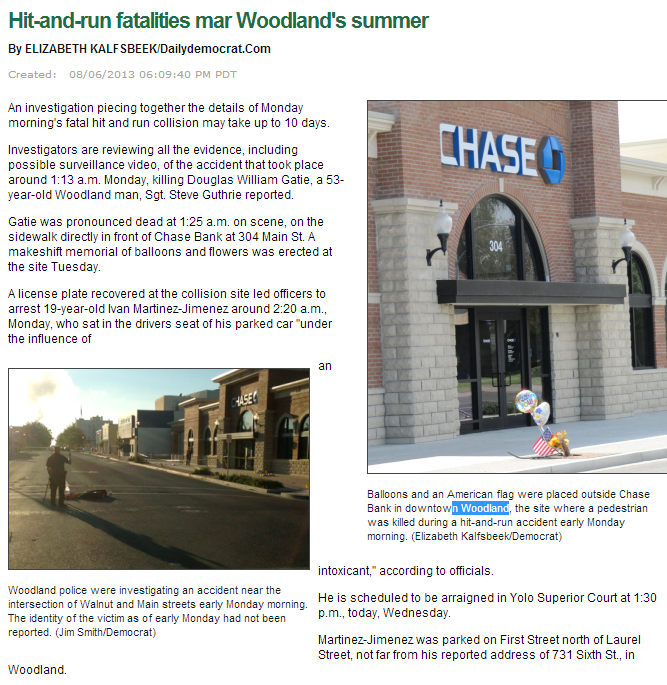 The Daily Democrat's website posted an article on August 6, 2013 that details the tumultuous turn of events that followed a series of auto accidents in Woodland. The 19-year old suspect of a fatal car crash that claimed the life of a 53-year old man was captured and is facing trial. Reportedly, this incident is the third in Woodland's string of hit-and-run accidents this summer, and authorities have reassured the public that they don't represent a gruesome trend.
Whether Woodland likes it or not, California in general is pretty infamous for its automobile accidents. There will be drivers who'll try to turn tail the moment they crash into someone; they can run, but they can't hide. With the help of an auto accident attorney in Sacramento, like one from established law firms such as Carter Wolden Curtis, LLP, victims and/or their families can pursue justice and make these guilty motorists literally and figuratively pay.
Aside from the accident mentioned above, there were two other recent instances of collisions that resulted in the death of a pedestrian in Woodland. The very first incident, which occurred late June, involved a 58-year-old woman being run over by a 28-year-old female driver in a convenience store's parking lot, and the second incident, which happened only five days after the first, dealt with the untimely demise of a 17-year-old girl as she ran onto the fast lane of I-5, where she was suddenly struck and killed by a vehicle. The suspects of these hit-and-run episodes have been arrested, and investigations are still underway.
Authorities stress that none of these incidents are related, and that they were freak tragedies as the victims where in the wrong place at the wrong time. Woodland's Vice Mayor, Tom Stallard, sums it up succinctly, with his statement " […] when pedestrians and cars come into conflict, pedestrians lose." It was noted that all the suspects of these accidents quickly fled the scene of the crime after the collision, hence the hit-and-run charges against them.
It's not pretty to be on the receiving end of an auto collision; in particular, when high speeds and DUI are involved, since the results can be very fatal. If not for the immediate legal action of the relatives of these victims, none of the suspects would've been brought into custody to take responsibility. Hence, those in the California region should keep tabs on a capable Sacramento auto accident attorney in case something horribly wrong happens to them.
Car accidents are dangerous scenarios to get caught up in; more so if they involve pedestrians. With dangerous drivers around, people shouldn't take any chances, even if they're just out for a stroll or a short walk. They should prepare for the worst, and familiarize themselves with a local personal injury lawyer.