A Sacramento Bee special feature focuses on the recent toy recalls in light of the upcoming holidays. Toys are supposed to be safe and fun for kids, yet manufacturers sometimes fall short when it comes to consumers' quality expectations. While a number of toys have been labeled as dangerous due to their small parts, lead content, or high decibel output, authorities are glad that toy safety has significantly improved: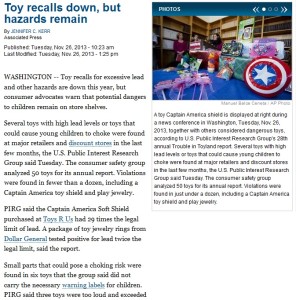 "We know that toys are safe," said Joan Lawrence, vice president of standards and regulatory affairs at the Toy Industry Association. "In this country, by law, toys are required to have been tested and certified before they are put on store shelves."
. . .
Overall toy safety, Davis said, has improved in recent years. Government figures show 31 toy recalls in fiscal year 2013, which ended Sept. 30 — none involving lead. That's down from 38 recalls in 2012; 50 in 2009 and 172 in 2008.
A 2008 law that set stronger standards for children's products, including strict limits on lead, has helped make many products safer for youngsters. The law was passed after a wave of recalls of lead-tainted toys.
It may be reassuring to hear that some of the more dangerous toys have been pulled off the market. However there are still a number of them that can pose serious health and safety risks to children. If a defective toy causes injury to a child, the child's parents or guardians can file a personal injury lawsuit for the damages suffered. A qualified and experienced Sacramento personal injury attorney can build a proper case to boost the plaintiff's chances of a positive litigation outcome.
All manufacturers are legally responsible to create products that are safe and fit for the public; the legal term for this obligation is product liability. Even toys are covered by product liability. When a customer suffers injury due to a manufacturing or design defect, he or she pursue a case based on the manufacturer's liability. Plaintiffs will need to present the defective product in court and show that it was defective in order to prove the manufacturer's fault.
Just showing or presenting a defective product in court isn't enough to win a case against the defendant, however. Wronged consumers will need proper legal representation in order to successfully navigate the complicated litigation process. Fortunately, Californians can always rely on a capable Sacramento personal injury lawyer from local law groups like the Carter Wolden Curtis Law Firm.
(Article Excerpt and Image from Toy recalls down, but hazards remain, Sacramento Bee, November 26, 2013)