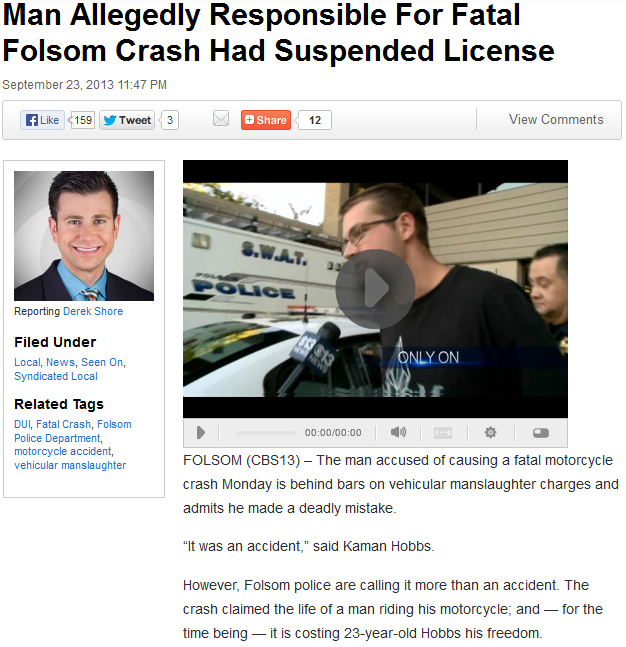 A CBS Sacramento special feature dated September 23, 2013 details a road accident. Kaman Hobbs was driving his truck (with a suspended license) when he took a turn and slammed right into a motorcyclist. Details on the accident can be read in the following passage:
"It was an accident," said Kaman Hobbs.
However, Folsom police are calling it more than an accident. The crash claimed the life of a man riding his motorcycle; and — for the time being — it is costing 23-year-old Hobbs his freedom.

"The driver does not have a valid driver's license, and should not have been driving the vehicle," said Folsom police Cmdr. Rick Hillman.
The crash occurred at Greenback Lane between Folsom Auburn Road and Madison Avenue, near Negro Bar State Park.
Officers say Hobbs turned left in front of a motorcyclist, sending the victim flying into a white van and killing him instantly.
Hobbs was driving on a suspended license and was arrested at the scene.
"It was a bad choice," he said.
In fact, according to Hobbs' charges, the Truckee resident's license was actually suspended for a previous DUI.
Nothing can be more terrifying than getting caught up in a vehicular accident, especially when motorcycles are involved. Sacramento has seen its fair share of accidents, and you shouldn't be taking your chances on the road without some form of security. Know that if you ever figure into an accident, there's a skilled Sacramento motorcycle accident lawyer that you can call on.
Motorcycle accidents are some of the worst collisions out there, mainly because there's not much protection between the motorcyclist and whatever he collides with. Injuries sustained from a motorcycle crash can be debilitating, and the more serious impacts can take lives. The costs for such damages can be exorbitant, and the kin of the victims may have difficulties meeting such payments.
Thus, it's necessary to determine fault in the accident case and demand reparations. A motorcycle accident attorney in Sacramento, such as one from the Carter Wolden Curtis Law Firm, should be able to help victims and those surviving them to claim personal injury and seek compensation. Accidents might be blunders, but someone has to be accountable to causing distress.
(Info from Man Allegedly Responsible For Fatal Folsom Crash Had Suspended License, CBS Sacramento, September 23, 2013)