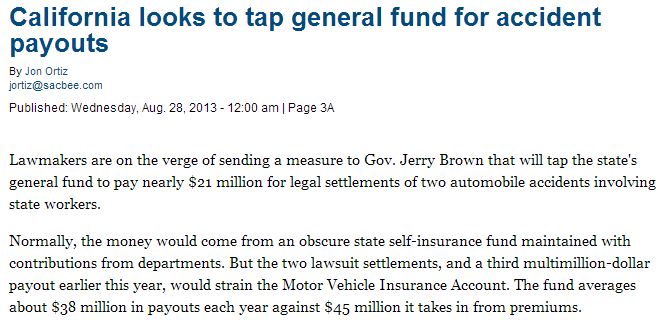 A Sacramento Bee article by Jon Ortiz, dated August 28, 2013, details the intent of a number of lawmakers to have the state of California pay almost $21 million due to two car accident. The payment is needed to settle two automobile accidents in which state workers were involved. Typically, the payments for these kind of settlements come from the state self-insurance fund, but the fund's account is strained and unable to pay.
When an accident occurs, the individuals or entities at fault should be the one to pay for damages. Such a task would be nearly impossible without a skilled lawyer. A knowledgeable Sacramento personal injury lawyer can serve as an advocate of the plaintiffs in court, even if the defendant is the state itself.
Ortiz notes that California's Motor Vehicle Insurance Account, a fund maintained by contributions from the state's departments, is usually used to pay off any settlements for accidents caused by state workers. However, the fund faces collapse should the state choose to proceed with settlement agreements. As an alternative, lawmakers are demanding that the state draw the payments directly from the California general fund.
Approximately $21 million will be used to pay for the two settlements. One settlement will be for the family of a man who was killed in a fatal car accident along a San Bernardino freeway; the victim's vehicle was rear-ended by a state employee from the Department of Forestry and Fire Protection. The other settlement is for a motorcyclist who was left paralyzed after colliding with a state car from the Department of Public Health.
Even if workers from the government have caused an automobile accident, victims can and should press forward for damages with the help of reliable legal assistance. Personal injury lawyers from Sacramento, CA, like those from the Carter Wolden Curtis Law Firm will fight for their plaintiffs' rights. They'll demand that the defendants pay for the settlement any way they can, as illustrated by the article's lawyers who are pressing for the state to pay up.
Nobody is above the law, and certainly neither is the government. Victims of any car crash or any other vehicular accidents should immediately seek help from a personal injury lawyer. Obtaining a settlement may not heal injuries, or bring back the dead, but it will at least hold the offending party responsible.