A Consumer Reports articled dated January 27, 2014 notes that those who use their private vehicles as part-time taxis via transport network companies (TNCs) run the risk of voiding their insurance policies. Lately, TNC usage by means of smartphone apps like Lyft has been on the rise due to the cost savings and environmental benefits. However, the article points out how such an arrangement can be problematic:
"Lyft's website says its excess liability insurance is designed to cover liability "for property damage and bodily injury of passengers and/or third parties," but the first party—the driver—is not mentioned. Also, liability insurance is only one type of coverage. There's no mention here of collision or comprehensive coverage, which would protect the driver's vehicle in a crash or from vandals; personal injury protection or medical payments coverage, which can cover driver injuries; or uninsured/underinsured motorist insurance, which would cover damage to the driver's vehicle caused by another driver who doesn't have enough or any liability insurance.

. . .

If you don't tell your insurer about your sideline taxi business and subsequently suffer a TNC-related loss, the insurer is likely to find out and may not pay your claim. Worse, your insurer might cancel or not renew your policy."
Other motorists need to be careful around "part-time taxis" employed via these TNCs. Part-time taxi drivers are at risk of having no insurance coverage to speak of, and this could make them liabilities on the road. Those caught up in accidents involving TNC motorists will want the services of an auto accident attorney in Sacramento from a trusted firm like Carter Wolden Curtis.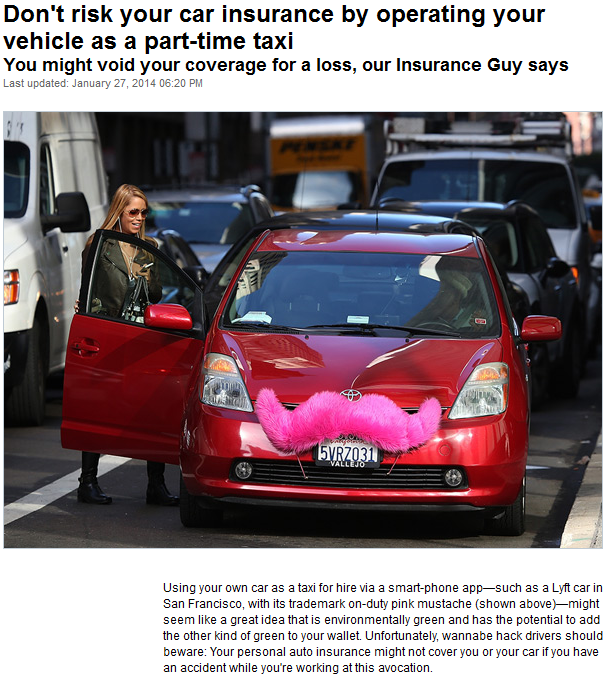 Just because the other driver in an accident lost his insurance doesn't mean that the victim can't receive compensation, however. A settlement can still be reached provided that the claimant can prove the defendant was indeed at fault, and this is where a lawyer will come in handy. If the other driver works part time for a TNC, then the claimant might also want to approach an auto accident lawyer in Sacramento to file a lawsuit against the company.
(Source: Don't risk your car insurance by operating your vehicle as a part-time taxi, consumerreports.org, January 27, 2014)