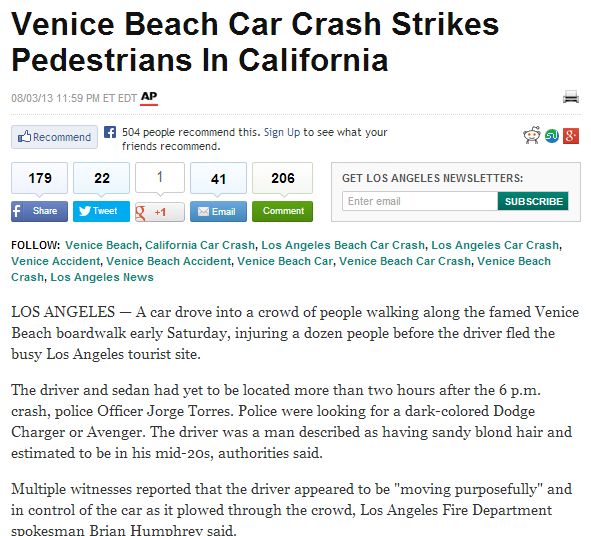 The Huffington Post published an article last August 3, 2013 that recounts a horrible incident that happened in Venice Beach. A motorist drove his car into a throng of people visiting the popular spot, injuring a dozen people during the rampage. The driver escaped before authorities could catch him.
Hit and run cases are serious matters, especially if the driver responsible for the crash leaves the scene to avoid responsibility. Victims of a crash are left injured, and in some cases unable to work, while the perpetrator flees the scene. This victimizes the injured party a second time. With the help of an injury lawyer from Sacramento, you never have to feel helpless following a car accident.
Eyewitness accounts claim that the dark colored Dodge car responsible for the tragedy was driven by a man with sandy blond hair in his mid-20s. Witnesses also noted how the "crashing" seemed deliberate as the perpetrator aimed and plowed through the people. When firefighters arrived to offer assistance, the culprit drove immediately away from the scene.
The reckless driver left mangled pedestrians in his wake, injuring twelve people in total. Ten of those people were hospitalized. Reports indicate that two of those hospitalized were severely injured and two were in critical condition. An eyewitness to the incident mentioned there was a lot of blood strewn along the crash path of the car.
The driver responsible could be charged with multiple crimes, especially if he meant to kill the people he ran over. Thankfully, all of the victims survived the traumatic experience. If he gets caught, victims can bring their own lawsuits with the help of knowledgeable Sacramento injury attorneys, like those from the Carter Wolden Curtis Law Firm.
No automobile accident is too big or small for the civil justice system. If somebody gets hurt, it is your right to seek justice. On the other hand, it is the offender's duty take responsibility for his own conduct.