The 2008 recession brought a lot of changes in the way big companies operate, including hiring temporary "blue collar" workers to cut down on salary and benefits costs. While this practice has economic and practical merits, the non-profit organization ProPublica said that less-trained "blue collar" temps are more likely to get injured or killed at the workplace as a result. Specific figures were given by Matt Bewig of the government transparency website AllGov.com:
"A blue collar temp's risk of on the job injury is about 72% higher in Minnesota, 66% higher in Oregon, 50% higher in California and Florida, and 36% higher in Massachusetts. Perhaps even more ominous is the fact that the problem is getting worse, as the claims rate of temp workers increased in Florida, California, Oregon and Massachusetts, while that of regular workers has been stable or dropped."
Oftentimes, workplace accidents are caused by lapses in safety protocols, either on the part of the victims or their managers. In many cases, the line between these two probable causes of fault can be indistinct, and it will take a seasoned legal professional, like a reputable injury lawyer in Sacramento, to sort through the details and merits of a case. Negotiating for workers' compensation is never easy, particularly blue collar temps who may or may not be covered by union laws. In Sacramento, reliable injury lawyers such as those at the Carter Wolden Curtis Law firm, can review the details of such a case and provide legal advice to the injured party.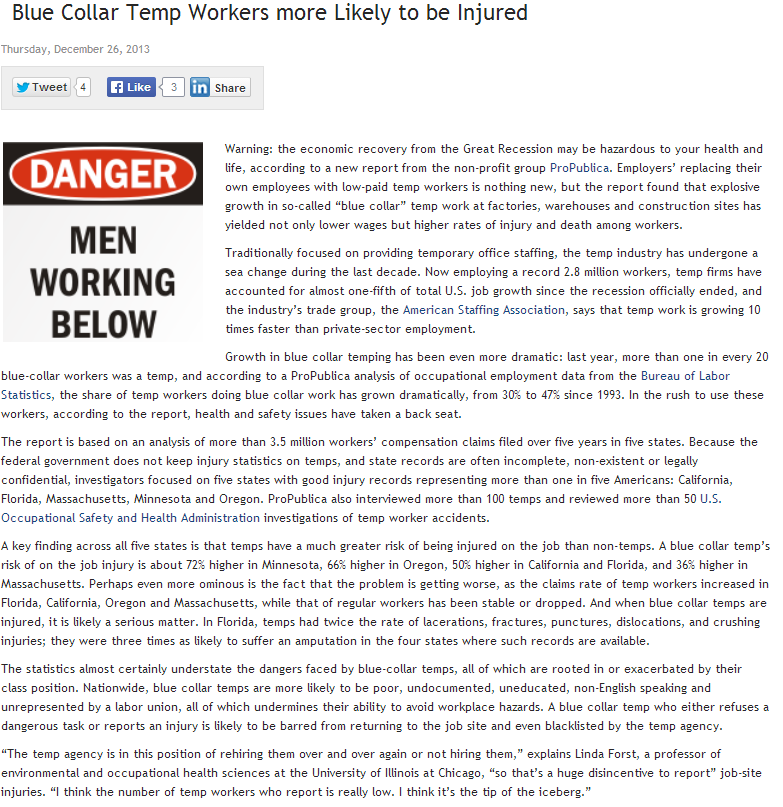 According to the state government of California, workers are responsible for notifying their superiors of any accident in the workplace as soon as possible. If a report hasn't been filed within 30 days, it's likely that the injured party will lose their rights to compensation benefits. It is also important for them to notify experienced injury lawyers in Sacramento so that a case can be reviewed, and if necessary, built early.
(Article Information and Image from Blue Collar Temp Workers more Likely to be Injured,  AllGov, December 26, 2013)