Some professional athletes may have long careers and some pretty hefty take-home pay, but many others have to leave their sport prematurely with permanent injuries. In an article for latimes.com, Ken Bensinger, Armand Emamdjomeh, and Maloy Moore tackle the issue of workers' compensations paid to football players and other professional athletes in California.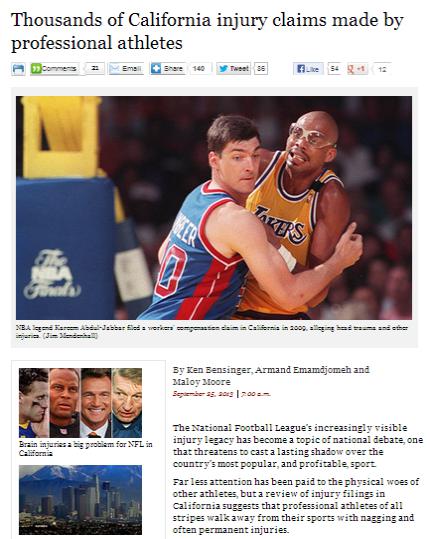 The National Football League's increasingly visible injury legacy has become a topic of national debate, one that threatens to cast a lasting shadow over the country's most popular, and profitable, sport.
Far less attention has been paid to the physical woes of other athletes, but a review of injury filings in California suggests that professional athletes of all stripes walk away from their sports with nagging and often permanent injuries.
Over the past two decades, more than 2,500 claims have been filed by former baseball, basketball, hockey and soccer players against their former teams in California's workers' compensation system.
By the very nature of their jobs, professional athletes always face the risk of sustaining temporary or permanent injuries. Under California's workers' compensation laws, sports teams are bound to compensate players for their injuries. While some athletes emerge as superstars, a large portion don't make the big dollars that the stars do and many have to leave their sports professions before achieving much success.
For California's workers' compensation cases some sources have pegged the typical amount a claimant gets at only around 40% of their actual losses and expenses. Furthermore, an employer or their insurance company may deny part or all of an injured employee's claims if they say the employee does not meet the eligibility conditions for the said claims. Hence, if you get injured while working in your Sacramento, California workplace, it would be advisable to immediately consult with a reputable Sacramento workers' compensation attorney to help you with the claims process.
You ultimately may not need a lawyer if your injury is just a minor one; however, some injuries may be serious enough to prevent you from getting future gainful employment, as in the case of some professional athletes. In addition, there may be future consequences to your injuries that you have not realized. You might need the services of trustworthy Sacramento workers' compensation attorneys, and it is highly recommended to seek out an expert. The attorneys at Carter Wolden Curtis Law Firm, can offer you a free analysis of your case. It is not uncommon for a company's insurance company to drag its feet or refuse to pay you for one reason or another. Likewise, if your claim is denied, you may need a lawyer's help to get a reversal.
(Article Excerpt and Image from Thousands of California injury claims made by professional athletes, LA Times, September 25, 2013)