Last February, 2013, California repealed its anti-lane splitting law, which prohibited bikers from driving in between lanes in the gaps between cars. Following its revocation, lane splitting has become the subject of much debate. The number of lane splitting accidents that have happened over the past few months have only intensified the issue.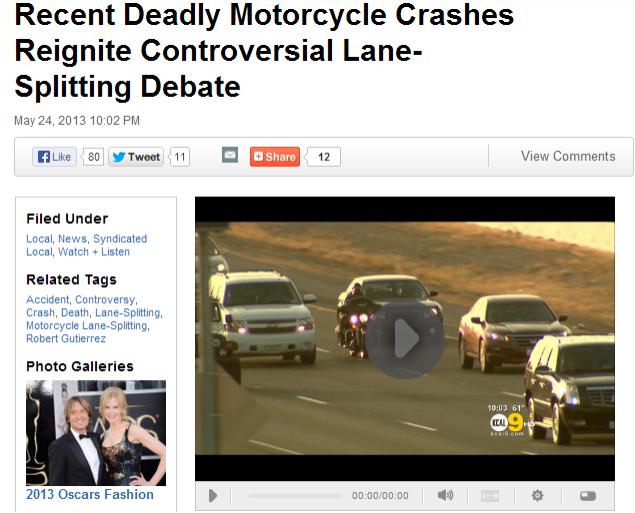 Biker Robert Gutierrez told KCAL9′s Tom Wait he was involved in a lane-splitting accident on the 5 Freeway in Santa Ana when the driver of a van made an illegal lane change.
"I was splitting lanes and he was coming out and I was like, 'Oh, should I avoid him or not?'" he said.
It was reported that the van attempted to change lanes at a part of the highway with double solid lines. This is an illegal and dangerous maneuver. The California Department of Motor Vehicles code clearly says that double solid lines prohibit lane changes. However, this illegal lane change is a real danger to a motorcyclist and they must always be alert for it. Chances are the driver had no idea the cyclist was there. One of the best things a cyclist can do is to not drive too fast.
Extreme caution should be exercised when lane splitting even though it is legal. While lane splitters can't be cited by officers for splitting, they can still be cited for reckless driving. Reckless driving can also be dangerous to the motorists in between. Despite the scarcity of statistics regarding lane splitting accidents, a study by the University of California Berkeley in 2012 shows that 15 percent of lane splitters are involved in accidents.
In motorcycle accident litigation, proof of traffic violations resulting from lane splitting can weaken accident claims. A professional Sacramento motorcycle accident lawyer would advise people to drive safely by strictly adhering to the California Highway Patrol's guidelines on lane splitting. If you are a motorcycle rider and find yourself involved in a land splitting accident you need to have your rights protected.
In the event of an accident, a Sacramento motorcycle accident attorney from law firms like Carter Wolden Curtis can help you gain the compensation you deserve.
(Article and image excerpt from Recent Deadly Motorcycle Crashes Reignite Controversial Lane-Splitting Debate, CBS Los Angeles, May 24, 2013)