"There are too many loose pit bulls running around the streets in Sacramento and its neighbor, Stockton, and too many loose dog attacks that end in a person getting bitten to death or scarred for life, frequently scarred on the face. Each year there's a report of yet another fatality from dog bite, usually from a loose dog running in a public area or entering someone's yard.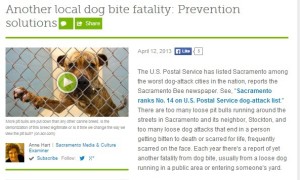 Sacramento and Stockton seniors, blind pedestrians, and those with disabilities, including people in wheelchairs, and parents pushing strollers on the sidewalk, people who don't drive and must walk to supermarkets, the bus stop, or walk for exercise to get out of their homes or apartments are constantly being plagued by loose dogs of all breeds. Most of the time the owners aren't at home, and the dogs somehow manage to get out of the yards, or the yards are left open. "
The above is an excerpt from an Examiner.com article that focuses on one danger that people in Sacramento and Stockton face every day. As a Sacramento resident, you should be aware that California has a dog bite law that imposes strict liability for dog owners; this means that if a dog bit you, it's possible for you to receive compensation for your injury with the help of a good Sacramento dog bite attorney. Even if the dog has no history of biting or vicious behavior, the owner can still be held accountable for his animal's actions.
California dog bite law
The California dog bite law is categorized as a strict liability law because it imposes liability without fault, meaning the bitten person does not have to prove that the dog owner did anything wrong. The principle behind this law is that a dog owner is responsible for any damage their pet causes. It doesn't matter if the owner was careful with the dog, wasn't aware that it would hurt anyone, or did everything to keep the animal from injuring anyone— the principle still holds.
When to take action
Dog bite victims are advised to consult an experienced Sacramento dog bite lawyer immediately after the incident. Failure to do so may cause a victim further inconvenience, as well as pose a threat to other people in the vicinity. It is important that these types of incidents are reported to the proper authorities at once to avoid similar incidents from happening in the future.
(Article Excerpt and Image from Another local dog bite fatality: Prevention solutions, Examiner, Apr. 12, 2013)