Despite the best efforts of the Highway Patrol, vehicular accidents are still fairly common in California, especially in certain counties. Motorcycle accidents, in particular, deserve special attention as they tend to be deadlier than those that involve four-wheeled vehicles. In response, law enforcement authorities conduct a yearlong motorcycle safety campaign backed up by cold, hard statistics about motorcycle accidents as presented by the Press-Enterprise:
"Crashes killed 139 riders in Riverside County and 156 in San Bernardino County from 2008 to 2012, according to the National Highway Traffic Safety Administration. Per capita, Riverside had fewer fatalities than Los Angeles and San Francisco counties and San Bernardino had more.

In January, six people died in Inland motorcycle crashes, according to county coroner reports. Officials, however, said they are not seeing an increase in motorcycle wrecks."
Since California is still a long way off from completely eliminating traffic-related fatalities, motorists are advised to prioritize their safety on the road and to keep in touch with a lawyer, especially a reputable Sacramento motorcycle accident lawyer, in case they do get involved in accidents. Law firms that handle personal injury claims, such as Carter Wolden Curtis, work hard to obtain justice for accident victims, particularly motorcycle riders.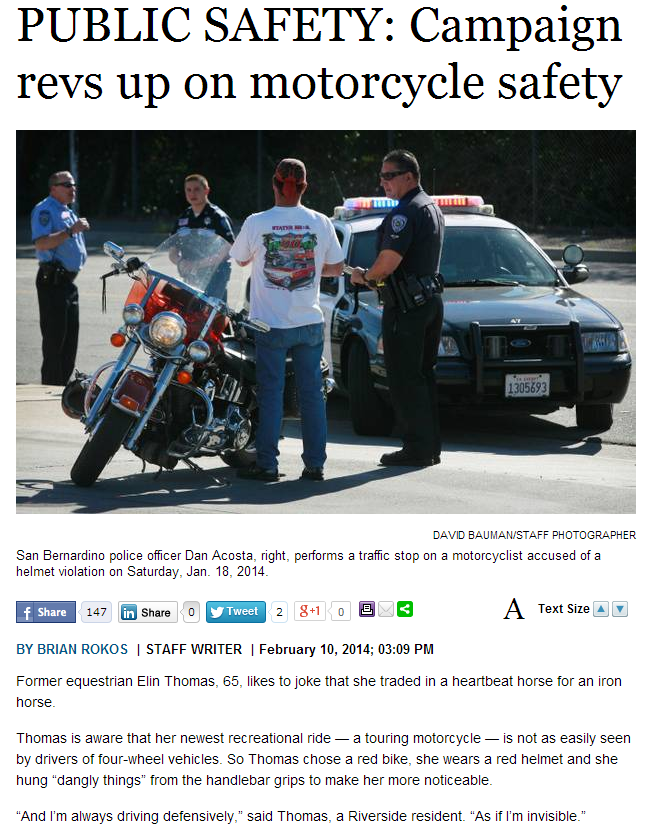 However, injured riders can't exactly present their case well if they don't follow the state's motorcycle laws in the first place. For instance, California laws state that motorcycle handlebars should not exceed six inches above the rider's shoulder height. Helmet speakers are likewise forbidden unless they consist of a single earphone only. The California Vehicle Code Section 27803 also makes wearing safety helmets mandatory.
In case of an accident, riders are reminded that they should not leave the scene right away and instead tend to anyone who's injured, as required by the California Health and Safety Code Section 1799.102 (Good Samaritan Law). Proper compliance on the client's part should enable a trusted Sacramento motorcycle accident attorney to do the rest on the victim's behalf.
(Source: PUBLIC SAFETY: Campaign revs up on motorcycle safety, The Press-Enterprise, February 18, 2014)