Last fall, California passed AB 1309 that amended some key provisions of the state's workers' compensation laws. According to the Los Angeles Times, the new Assembly Bill restricted professional athletes who played in the state from filing injury claims. The bill only took effect on September 2013, which gave dozens of athletes a few months' time to file for such claims anyway: the same claims that sports leagues like the NFL are dealing with right now:
"In the first two weeks of September, current and retired players filed 569 claims against NFL franchises, 283 claims against Major League Baseball clubs, 113 against National Hockey League teams and 79 against NBA squads, a Los Angeles Times analysis of state workers' compensation data found."
This news story can be perceived as proof of the importance of California's workers' compensation laws. After all, injuries happen at work can occur so when people least expect them, sometimes leaving them with debilitating injuries. Unfortunately, it's still quite tricky—even for seasoned legal professionals—to claim compensation for work-related injuries due to a variety of reasons. After all, compensation for one person alone may cost an employer tens of thousands of dollars in medical and other expenses. While a quality workers' compensation attorney in Sacramento isn't always easy to find, law firms like Carter Wolden Curtis can review compensation claims and dispense some legal advice at the very least.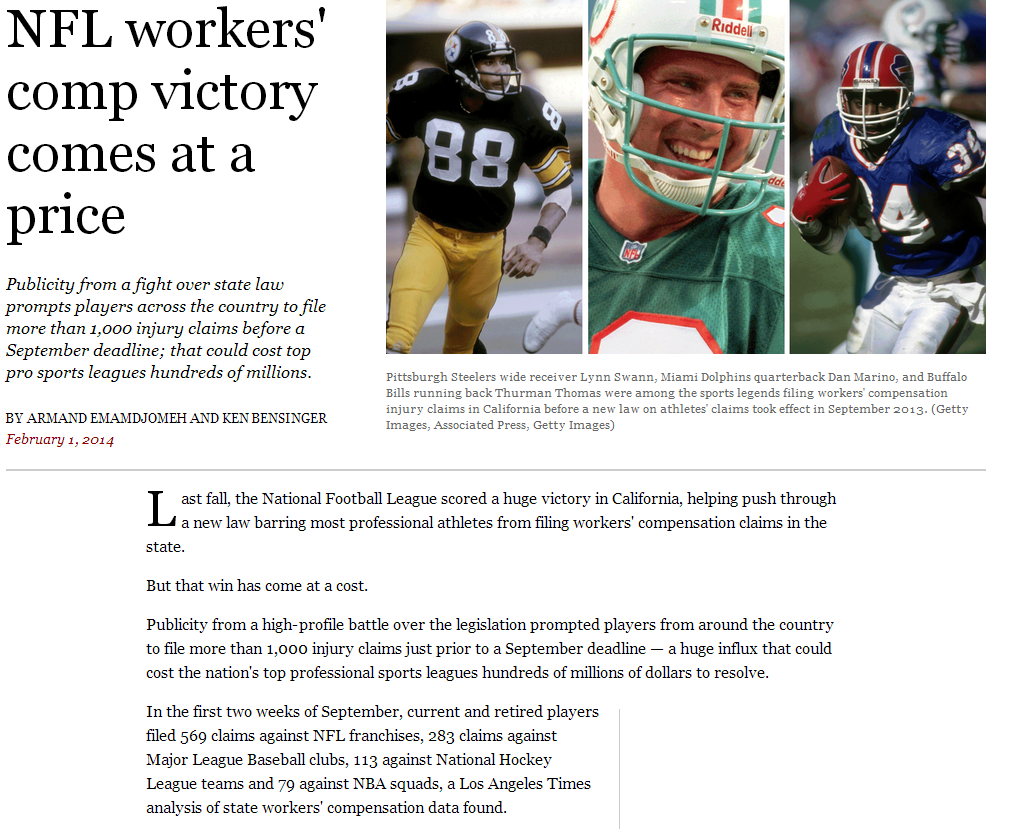 Such services are important considering that work-related injuries in the US are quite frequent. The Bureau of Labor Statistics reported at least 3 million such cases in 2012 alone. There's also the fact that claimant fraud is just as common, ranging from workers faking an injury to employers falsifying payroll numbers. Thus you must be prepared for the counter claims that an employer is likely to make. However, the common working man's problem is the one that remains as the primary concern of workers' compensation lawyers in Sacramento, CA or elsewhere. With AB 1309, though, they've now added professional athletes on their list of potential clients as well.
(Source: NFL workers' comp victory comes at a price, Los Angeles Times, February 1, 2014)