On June 18, 2013, a high profile car crash in Los Angeles took the life of journalist and Polk Award recipient Michael Hastings. He was well-known for his article that led to the dismissal of Army General Stanley McChrystal for his derogatory remarks on the Obama administration over handling the war in Afghanistan.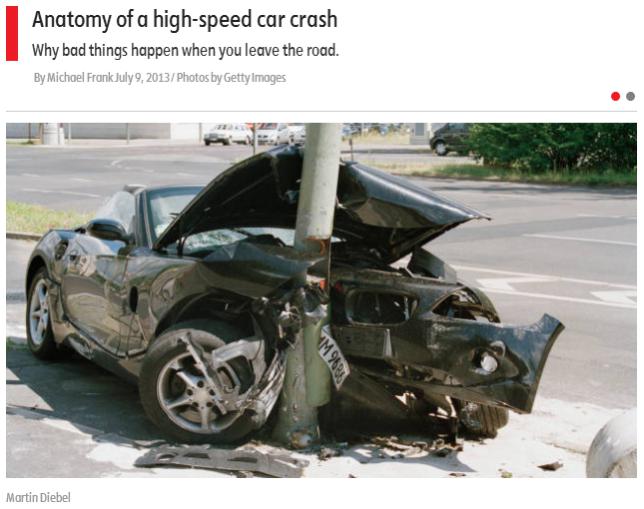 Given his article about McChrystal, conspiracy theories following the crash suddenly started coming out of the woodwork. As Michael Frank of Road and Track Magazine reports:
Immediately, conspiracy theorists jumped to conclusions. Because Hastings had blown the lid off General Stanley McChrystal's insubordination and was a pioneering muckraker, Internet posts started spinning the idea that Hastings's car had been sabotaged. C-class Benzes just don't blow up like that, the theories went; and their engines don't randomly pop free of their mounts and fly out from under hood.
Without some form of foul play, how could Hastings's crash have been so violent, so deadly?
The average auto accident does not receive the massive media coverage or produce the controversy of this one. However, after all the conjecture and conspiracy theories what you have here is a fatal car crash. And car crashes, even ones that are not fatal or don't receive the fanfare like this one, can get very complicated. Often they are much more complicated and tougher to gather all of the related crash information than people realize. It's easy to get overwhelmed or accept a less than optimal settlement in your time of distress. Your accident doesn't have result in major injury or death to require the assistance, or at the very least, the consultation with a qualified attorney.
An auto accident attorney in Sacramento always relies on evidence supported by facts; in this case, months of collecting details from the day of the accident were necessary. Sometimes it may take a while, but getting all the information creates a clearer picture.
For car accident litigation you must get help from an expert Sacramento auto accident attorney like the ones at law firms such as Carter Wolden Curtis. They can help you navigate your way in your time of need and assist you in collecting all of the information involved in the events before, during, and after a car crash—controversial or not.
(Article and image excerpt from Anatomy of a High Speed Car Crash, Road and Track, July 9, 2013)