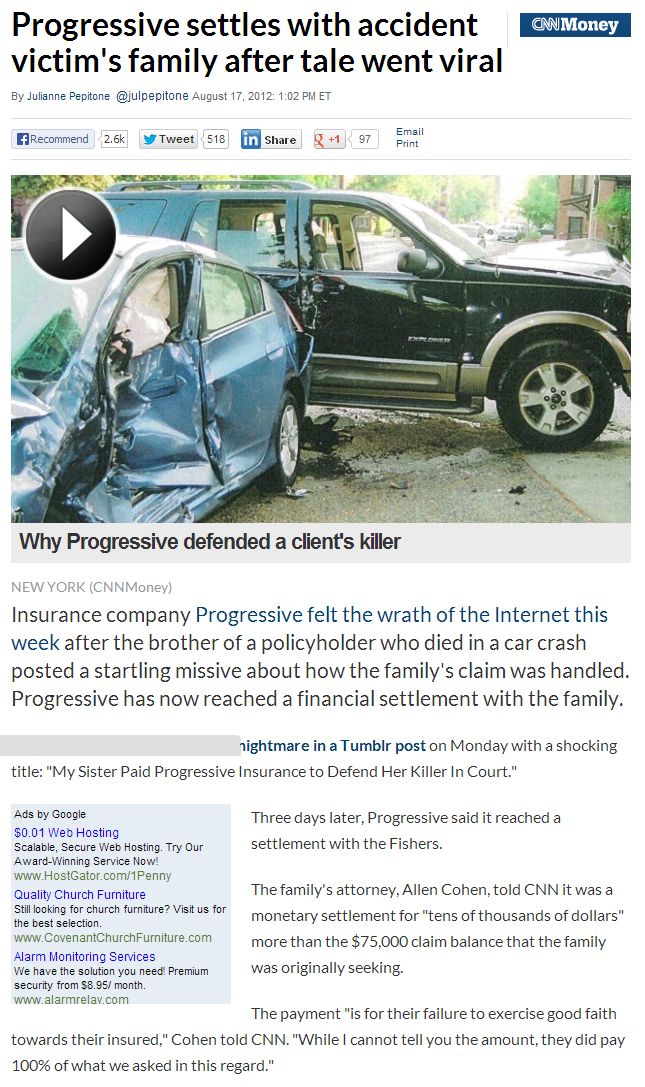 In 2012, a car accident insurance claim case in Maryland caught the public's attention after the victim's brother wrote a blog post that rocked the Internet. In it, Matt Fisher, brother of Katie Fisher who was killed in the 2010 crash, denounced his sister's insurance company, Progressive, for participating in the defense of the other driver involved. The blog post elicited a massive negative public reaction against Progressive. Since then, the court has ruled in Katie's favor and Progressive paid not only for the accident claims but also an additional settlement for "their failure to exercise good faith towards their insured."
Car accident claims can get complicated especially when large settlements are involved and determining fault is an issue. This is true in Maryland and in California, where "fault" laws are observed. For this reason, residents around Elk Grove, California are advised to seek the counsel of experienced Elk Grove personal injury lawyers if they get involved in an accident, particularly one that may involve large settlements.
In car accident cases, particularly in "fault" states, the party at fault is liable to pay the other party's claims through an insurance company. But determining who is at fault can be highly contentious. A reputable personal injury lawyer can help their client legally prove or disprove their fault.
As reported by Julianne Pepitone on Money.CNN.com, Progressive had earlier deemed Katie was at fault for the accident and agreed to pay only $25,000 of the $100,000 claim amount Katie's family was seeking. To get Progressive to pay the rest of their claims, Katie's family filed a suit against the other driver, who was underinsured, to prove that the latter was at fault. Accidents involving underinsured drivers is another potentially contentious issue a seasoned Elk Grove personal injury lawyer, such as those practicing at Carter Wolden Curtis Law Firm, can help with.
The Fisher case showed that litigation may sometimes be necessary to get the right settlement. The right lawyer is one who is ready to take a case to litigation if needed. The same case also highlighted that breach of trust is something an insurance company can be legally liable for.
Moreover, the outcome of the Fisher case showed what trustworthy attorneys can do for their client. First, they will look deeply into all the details surrounding the case. They will then fight for their client's rights and work to achieve the best possible outcome for them.