New laws involving private motorists in California will take effect this 2014. Keeping up with the new and changing laws is virtually impossible for the average person. That is why it is wise to have the phone number of a trusted Roseville accident attorney handy when involved in a mishap.
Below are some of the new laws taking effect in 2014:
AB 1371 (Bradford) requires motorists to keep any part of their vehicles at least three feet away from cyclists when both parties follow the same flow of traffic. If not possible, motorists must slow down to reasonable speeds and only pass if cyclists are in no danger.
Assembly Bill (AB) 266 (Yee) and Senate Bill (SB) 286 (Blumenfield) extend the expiration date to January 1, 2019 for low to zero emission vehicles that operate in high occupancy vehicle lanes without meeting occupancy requirements.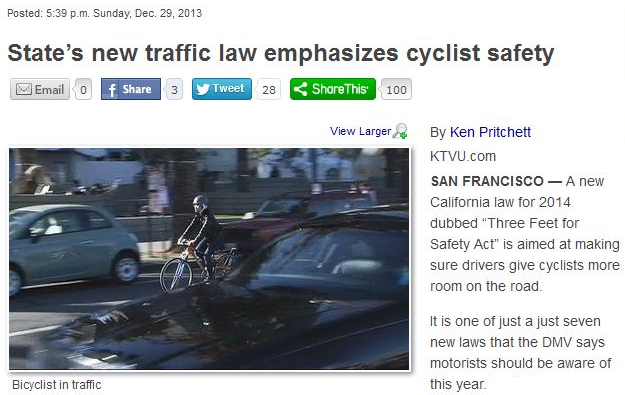 SB 806 (Hueso) permits DMV to create a pilot program that checks the use of alternatives to license plates, registration cards, stickers, and tabs subject to certain requirements. The DMV can also experiment and explore cost-effective alternatives to metal license plates, paper registration cards, and plastic-coated registration stickers.
AB 443 (Lowenthal) bars transferring ownership of a vehicle to a relative or a revocable living trust for any unpaid parking or toll-violation fines and penalties reported to the DMV until settled.
AB 1047 (Linder) allows the Department of Motor Vehicles (DMV) to do a commercial drive test to any holder of an out-of-state learner's permit. It also changes two license class definitions. One who drives a bus weighing more than 26,000 pounds must have a commercial Class B license, while one who operates a bus weighing 26,000 pounds or less should have a commercial Class C license.
SB 194 (Galgiani) forbids a person aged 18 and below from using an electronic wireless communications device to compose, send, or read a text-based communication while driving, even if it is hands-free.
AB 244 (Bonilla) obliges the California Department of Veterans Affairs (CalVet) to sponsor a veterans' special interest license plate and requires the DMV to issue the veterans' plate if it meets CalVet's statutory requirements. It also creates a new program to reissue the Veteran design that was done prior to January 1, 2010.
AB 1371 and SB 194 are of particular interest because they address safety.
Time will tell if these laws will minimize, accidents involving their respective circumstances. In some cases, an injured motorist may need a skilled Roseville personal injury attorney like one from Carter Wolden Curtis Law Firm to hold someone accountable for the incident.
(Article Information and Image from State's new traffic law emphasizes cyclist safety, KTVU, December 29, 2013)