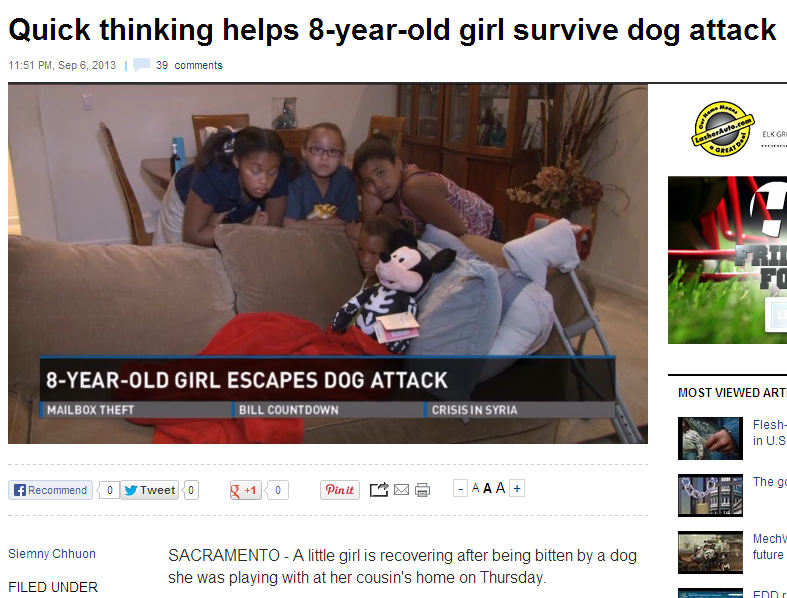 A news article by Siemny Chhuon last September 3 in news10.net reported on an 8 year old girl, Jaelynn Esteves Boyce, surviving a dog attack. Boyce needed 14 stitches and bandages to cure the wounds on her leg and back.
The attack occurred when Boyce was at her cousin's home in Del Paso Heights when they were alone and playing with the dog. According to the report, "The Durfee family was fostering the dog, a pit bullmix, for a friend. The little girls were home alone with when the dog snapped. The dog latched on to Boyce's leg while Durfee watched in horror." Aaliyah Durfee, the victim's cousin, tried to get the dog off Boyce, but the dog wouldn't let go.

The dog then got hold of Boyce's shirt, which prompted Durfee to tell her cousin to take off her shirt, which eventually allowed her to free herself from the dog. Boyce then ran into a room and opened the window, pushing the screen to be able to go out of the house. Furthermore, the report says, "As for the dog, Animal Control picked it up. Officials have to conduct an investigation to determine what will happen to the dog."
A dog attack is a terrifying and life changing nightmare that could happen to anyone. Hiring a trustworthy Sacramento dog bite lawyer is one way to ensure that you will be provided with legal assistance once this happens. By doing this, you can get compensation claims and alert the authorities about the hazards that these dogs can bring so that dog bites can prevented in the future.
According to the California Civil Code, the dog's owner is the one responsible for the damages on his dog's first bite and every succeeding bite, however, when the dog is trained to fight, then he can be destroyed after his first bite. When a dog has bitten two or more times, then a professional Sacramento dog bite attorney should be hired in order to take action for the local district attorney or city attorney to determine what will happen to the dog.
Dog attacks are traumatic not only to the victims but also to their loved ones. This is why different law firms like the Carter Wolden Curtis Law Firm offer help to dog bite victims so that they could handle the situation as professionally as possible.
(Info from Quick Thinking Helps 8-year Old Girl Survive Dog Attack, News10, September 6, 2013)