They may be famous, but even celebrities have car accidents. U.S. News reports that country legend Dolly Parton was recently involved in a "fender bender":
Dolly Parton is home resting after being treated and released for minor injuries she suffered in a car crash she described as "a fender bender."
Kirt Webster says Parton was already home Monday afternoon following the accident that happened shortly before noon CDT in Nashville, Tenn. Parton says in a statement that she's "all good. Just a little tired and sore."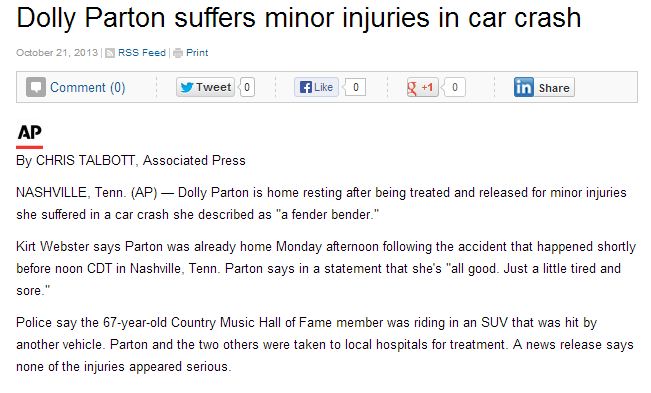 Police say the 67-year-old Country Music Hall of Fame member was riding in an SUV that was hit by another vehicle. Parton and the two others were taken to local hospitals for treatment. A news release says none of the injuries appeared serious.
While safety features like airbags are making cars safer than ever, auto accidents remain a common occurrence on highways. According to the National Safety Council, 10 million accidents happen each year, causing anything from minor car scrapes to total wreckage and even worse.
Getting back on your feet after a car accident can be a financial burden. Depending on the severity of the crash, a car might need extensive repairs if not outright replacement. More than that, however, are the medical expenses you have to face. According to the Centers for Disease Control and Prevention, injuries from motor vehicle-related injuries cost about $99 billion in productivity losses and medical bills each year, and one person is rushed to the emergency room for treatment every 10 seconds.
When the other driver is clearly at fault, a person should contact a car accident lawyer in Sacramento to help get proper compensation for vehicular damage and physical injuries. Since they are familiar with the claims procedure, they can protect clients from appraisers who will try to wrangle a low-ball settlement in order to save money for insurance companies. Most car accident attorneys also work on a contingency basis, meaning clients will only pay them once the case is won and the claim awarded.
The average person can expect to experience three to four car accidents in his lifetime, celebrity or not. For the average citizen, though, each one will be a major expense on their part. A Sacramento car accident attorney will make sure that justice prevails by ensuring that the proper recompense is paid.
(Article and image excerpt from Dolly Parton Suffers Minor Injuries in Car Crash, US News, October 21, 2013)