There has been a recent spate of accidents involving buses on California's freeways, as reported by the Associated Press in The Toledo Blade:
"The bus tried to get on the ramp to exit, but he come too fast. He can't control the bus," passenger Eduardo Magana told KCBS-TV.

Eleven people received minor injuries and two received moderate injuries, the station reported, citing the Los Angeles County Fire Department.

KNX-Am reported that one person had a broken arm.

Nearly 40 people were on board the bus, which was returning from the Fantasy Springs Resort Casino in Indio. They were briefly trapped by a blocked door before rescuers freed them.

The freeway remained open.

The accident came four days after three bus crashes on rain-slick Southern California freeways killed two people and injured dozens more.
Bus accidents are fairly uncommon, and the reported string of accidents may just be an anomaly brought on in part by the effects of winter on California's road conditions. However, these accidents do highlight some of the issues surrounding bus accident claims.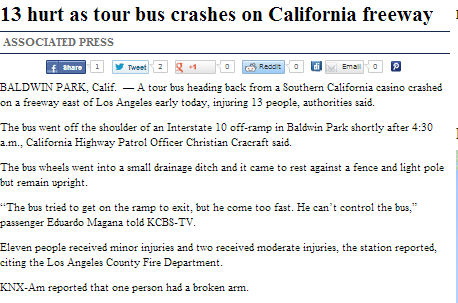 One of these issues has to deal with who is at fault and is ultimately responsible for the accident. In the AP news report, two of the accidents appear to have been the result of the drivers going "too fast", and could therefore be traced back to the drivers' negligence. However, the news also refers to the presence of a "small drainage ditch" and "rain slick" freeways, which could then be held against those responsible for maintaining good road conditions, particularly in stormy weathers.
In addition to these issues, bus accident claims in California and most other states often get more complicated than typical motor vehicle accident claims when the buses involved are operated by government entities. In cases like these, there may be special proceedings and deadlines that have to be strictly met for the claims process to be successful. In this regard, those who figure in a bus accident in Sacramento will do well to immediately seek the advice of a competent Sacramento personal injury attorney for guidance on the right action to take.
The services of seasoned Sacramento, CA personal injury lawyers are especially invaluable when an insurance claims process is denied. Experienced attorneys can help their clients file a claims case against the right government entity, if one is involved, within the short period of time that such claims typically have to be processed. Likewise, these lawyers can help bus accident victims determine the right amount of claims to seek as compensation for the injuries or losses they suffered from the accident.
(Article excerpt and image from 13 hurt as tour bus crashes on California freeway, The Toledo Blade, December 23, 2013)