An article on the Sacramento Bee website dated November 12, 2013 traces the development of a bill designed to protect laborers from a payroll fraud scheme that mislabels them as "independent contractors". This underhanded tactic denies workers rightful pay as well as benefits. The article has much to say about this misclassification issue: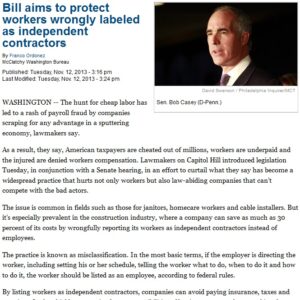 The issue is common in fields such as those for janitors, homecare workers and cable installers. But it's especially prevalent in the construction industry, where a company can save as much as 30 percent of its costs by wrongfully reporting its workers as independent contractors instead of employees.
The practice is known as misclassification. In the most basic terms, if the employer is directing the worker, including setting his or her schedule, telling the worker what to do, when to do it and how to do it, the worker should be listed as an employee, according to federal rules.
By listing workers as independent contractors, companies can avoid paying insurance, taxes and overtime. It also shields companies from responsibilities of having to protect those working for them.
With the bill yet to be passed, it's not uncommon to hear of employers who mistreat their employees and refuse to take responsibility for their actions. Employees shouldn't stand for such wrongful treatment and should fight for their rights as workers. Wronged laborers can approach a workers compensation attorney from Sacramento to resolve such matters.
Under workers compensation laws, laborers have the legal right to demand remuneration if they suffer injuries caused by their employer's negligence. However, employers typically don't just hand over the compensation and may indeed challenge such claims. Things can escalate into a full-blown case, where the claimant has to prove the employer's undeniable negligence. Employees who are injured while performing their work will need to be compensated for medical expenses and loss of earnings.
Given that the claims process can be quite convoluted, claimants shouldn't attempt to seek settlements on their own. Experienced Sacramento workers compensation attorneys can help victims of employer negligence build a strong case and eventually reach a settlement with their employers. Such lawyers can help smoothen relations, investigate circumstances, and negotiate a settlement amenable to both parties. For a free evaluation of your case, contact an experienced attorney at the Carter Wolden Curtis Law Firm today.
(Article Excerpt and Image from Bill aims to protect workers wrongly labeled as independent contractors, The Sacramento Bee, November 12, 2013)