The rate of car accidents in the United States has decreased over the last three decades. However, over 25,500 fatal crashes per year is still a large number, and only highlights the need to address the root causes of accidents. Unfortunately, the leading cause of car accidents is negligence, which can come from anyone on the road.
An article in Nolo.com discusses negligence, and how it factors in car accident claims
"Negligence is a legal theory often used in car accident cases. A driver must use care to avoid injuring other motorists, passengers, or pedestrians — basically, anyone that he or she encounters on the road. If a driver is not reasonably careful and injures someone as a result, the driver is liable for injuring the accident victim."
Proving negligence by one party in an accident is no easy task, considering the many possible contributory factors. If you figure in a collision in any of the roads in Sacramento, however, you need to prove negligence to successfully pursue the right claims and compensation.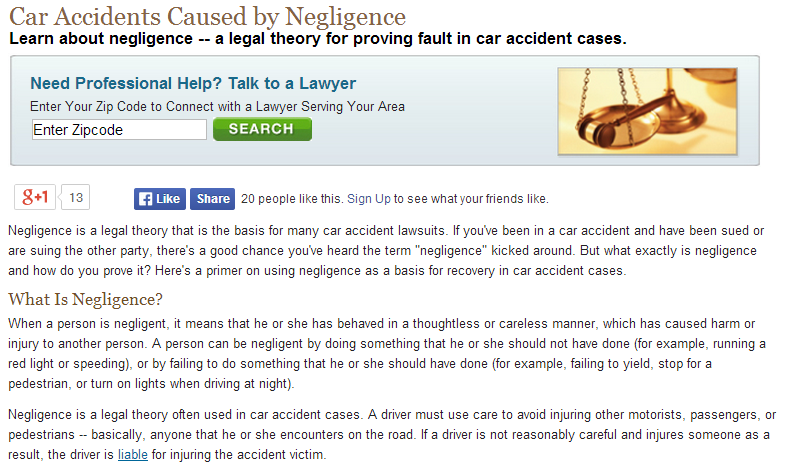 While some car accident cases are clear-cut, others can be complicated. If the issue of negligence is not clear in your case, you should immediately seek the help of a reliable Sacramento car accident lawyer, who will go through the details to examine where and how the negligent act took place.
You will most likely have to deal with insurance companies for your accident claims. If the amount involved is relatively small, you may not encounter any problems in the process. However, in cases where serious or substantial injuries, and therefore, considerable claim amounts, are involved, it is best to work with a seasoned car accident attorney in Sacramento, such as those at the Carter Wolden Curtis law firm.
Insurance companies will try to pay the lowest possible settlement amount. If you feel you deserve more than what these companies are offering, or if you believe they are dragging their feet in the matter, an experienced lawyer can help you get the process going and receive the compensation you justly deserve.
(Article Information and Image from Car Accidents Caused by Negligence, Nolo.com)