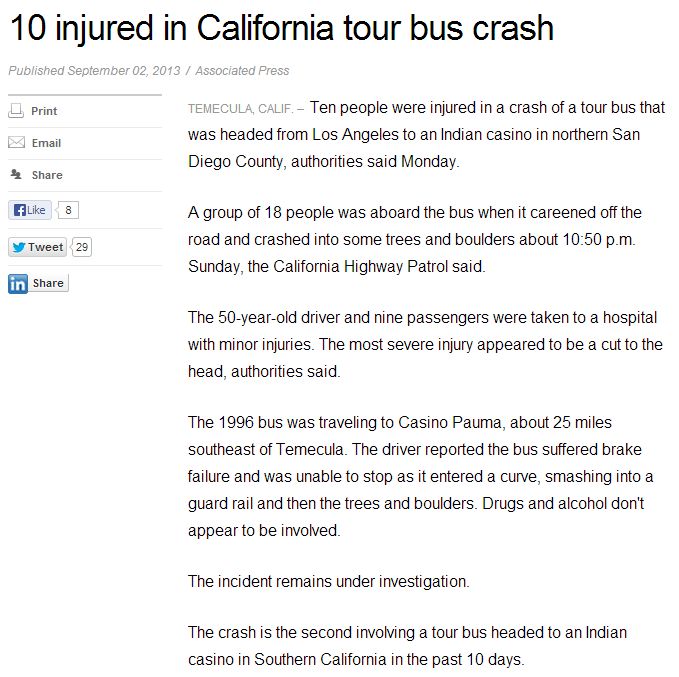 There are times when an auto accident happens and at first blush it appears as if there is no culpable party. This scenario played out in the case of a tour bus in San Diego county that crashed en route to an Indian casino and caused injuries to at least 10 people, including the driver. Brake failure was the cited cause of the accident, although it's not clear if it's due to neglectful maintenance or the poor condition of the bus.
This case demonstrates how a routine accident may be an example of a product liability case. Providing legal assistance to victims of product liability cases is one of the many services of a Sacramento auto accident attorney, such as those from the Carter Wolden Curtis Law Firm. Faulty vehicle features like brakes can inflict serious injuries even with the most careful driver behind the wheel.
This only proves that accidents can and do happen even if the driver is not at fault for the accident. The San Diego bus crash didn't involve drugs or alcohol, or the failure to follow traffic rules, and yet it still happened. The near-inevitability of traffic accidents is also a reason why California has uninsured motorist insurance. Uninsured motorist coverage allows victims of accidents to collect compensation even if the other driver has no insurance.
Insurance is especially helpful in cases that actually involve driver error or negligence. The San Diego tour bus crash was the second case of such in Southern California in a 10-day timeframe, with the first one happening on August 23, 2013 along Interstate 210. About 50 people were injured in this crash, which was caused by a bus driver making an unsafe lane change and sideswiping a car before crashing.
While no formal charges were issued in either crash, there's no denying that the two bus crashes caused considerable pain to the victims. Since there are no charges, compensation for the victims can be difficult to obtain. This is where an auto accident lawyer in Sacramento can help to ensure that the victims are compensated even if law enforcement chooses not to bring charges.