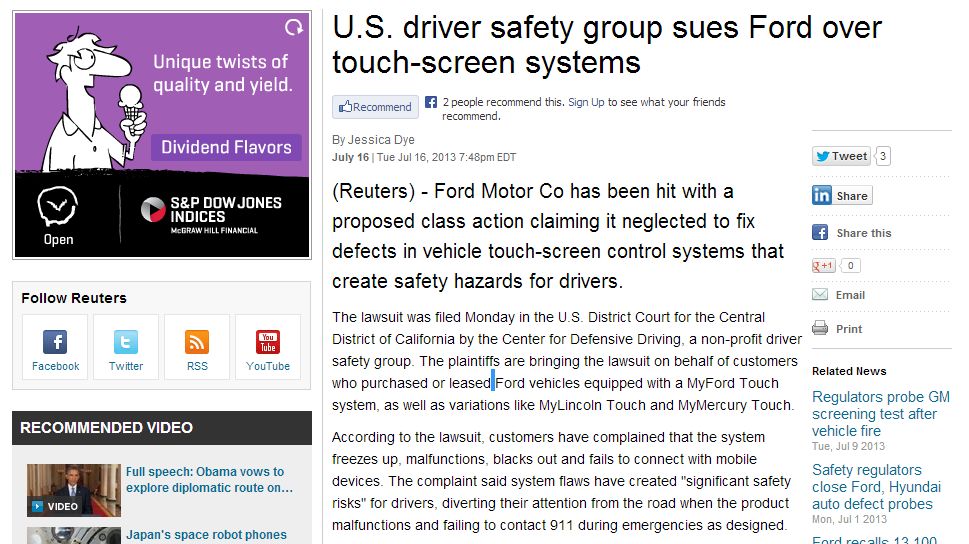 In July this year, the non-profit drivers' group Center for Defensive Driving (CDC) filed a lawsuit in the Central District of California against Ford Motor Co. As reported by Jessica Dye for Reuters, the lawsuit was built around the "significant safety risks" posed by "defects" in Ford vehicles' touch-screen infotainment systems. The system's alleged defects were said to create risks for drivers, as their attention could be diverted from the road to the malfunctioning system.
CDC's lawsuit against Ford is considered a class action suit, a kind of litigation where a group of individuals seek legal remedy from manufacturers of defective products, usually large corporations. A resident of Roseville, California, who may have been involved in an accident which they believe resulted from a defective product, should seek out the services of a reputable Roseville accident attorney. After evaluating the case, the attorney can take the necessary legal actions.
Generally, a consumer has a case against the manufacturer if the product has a defective design or make, or if the manufacturer did not provide adequate warnings about the product's use. In the case of the Ford infotainment systems, the complainants should show that the maker failed to deliver the product as advertised. They should also prove that the product created potential risks to the users.
A class action lawsuit is often highly effective in making a large corporation accountable for a defective product. However, there are also many cases where only a few people or even just one customer may be affected. A trusted Roseville personal injury attorney can determine if the case has merits for a lawsuit and if a class action may be appropriate.
When an accident arises from the use of defective product, the consumer can seek compensation for medical expenses incurred to treat injuries from the accident. They may also ask for damages to compensate for loss of income because of the injury, among other costs. A personal injury attorney can help in determining the right compensation amount their client should seek.
If the CDC is successful in their lawsuit against Ford, the latter will be required to make sure the questioned products are taken off the market. Laws often favor consumers when it comes to these cases. By working with the right personal injury attorney, a victim of a defective product can gain the confidence to go against a corporate giant.