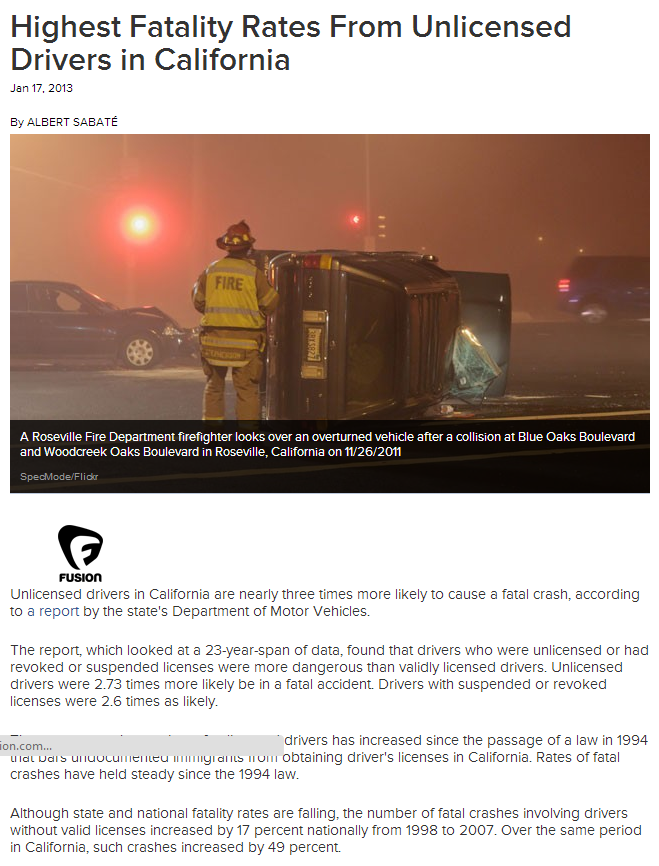 Albert Sabaté's January 17, 2013 article on the abcnews.go.com website reiterates the findings of California's Department of Motor Vehicles (DMV). According to the study conducted by the said organization, unlicensed drivers in the state are almost three times more likely to instigate a car crash. This conclusion was made after 23 years worth of relevant data has been compiled and analyzed.
Motorists driving without a license are practically breaking the law, and that's certainly cause for worry. If the DMV's report is anything to go by, it doesn't help that these drivers are even more of a danger by being the ones most likely to incite a collision. Those who value their safety and want to put reckless drivers in their place might want to keep tabs on a leading Roseville accident attorney.
The report states that unlicensed drivers were 2.73 times more likely to cause an automobile collision, compared to validly licensed drivers. In the same report, those whose licenses have been revoked or suspended were 2.6 times more likely to be involved in a fatal accident, nearly the same figure as those who don't have licenses. Notably, the number of unlicensed drivers started to grow since the passing of a 1994 law that prevents undocumented immigrants from obtaining a license in the state.
While California's accident rates are falling, the number of crashes caused by unlicensed drivers across the United States jumped by 17 percent from 1998 to 2007. In California alone, the increase was an alarming 49 percent. To give you some perspective, Sabaté quotes a Los Angeles Times report that estimated a total of 2 million unlicensed drivers in California—unsurprisingly, most of these illegal drivers were undocumented immigrants.
Officials are trying their best to avoid a bigger, more criminal problem, which is when such unlicensed drivers hit and run. This is definitely a pressing concern, and could leave victims of these sort of collisions helpless. Victims and their relatives should immediately get in touch with a reliable personal injury lawyer in Roseville, CA, specifically one from established law firms like Carter Wolden Curtis, LLP to properly seek compensation for the damages caused by the careless culprit.
Some authorities claim that the best solution to this issue is to provide temporary driver's licenses to undocumented immigrant drivers, which should motivate them take responsibility for any road mishaps as well as be held liable. Until then, other motorists will have to remain alert while on the highway and keep the number of their trusted accident attorney within reach, just in case the unexpected happens.