Lawsuit alleges utility failed to safely and properly maintain power lines and equipment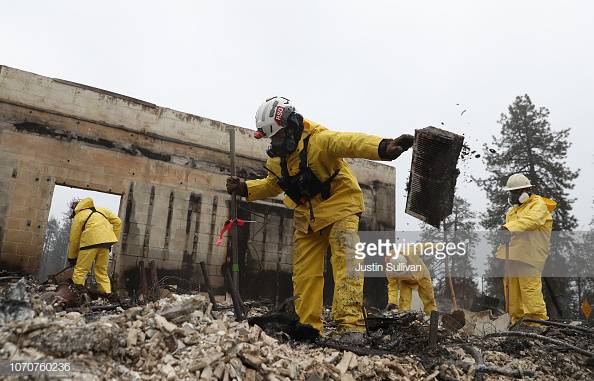 BUTTE COUNTY — As Walter Heard raced home under dark skies and past a field on fire next to his house in Paradise the morning of Nov. 8, he thought, "Oh no, not again."
He had lost the same residence to a blaze in 2014, one he alleges was the fault of Pacific Gas & Electric Co.
"I spent so much time and effort on every little detail rebuilding my house and I didn't want to lose it again," Heard said.
He thought about using a garden hose to fight the new fire. But that plan was quickly scrapped when his son-in-law, a Paradise police officer, called and told him to "get out … fast!" and the fire in the adjoining field suddenly turned into a huge wall of flame.
Heard escaped with his fiancée, but for a second time, a conflagration consumed his home. Now, he and 34 other families who lost everything they owned in the Camp Fire are suing PG&E for allegedly failing to safely and properly maintain power lines and equipment.
"The result is several deadly and catastrophic power line fires in recent years, including the Camp Fire," states the lawsuit, which was filed in Butte County Superior Court on Thursday.
The California Department of Forestry and Fire Protection is still investigating the cause of the blaze, which broke out about 6:30 a.m. near Pulga. However, Pacific Gas & Electric reported a transmission line failure in the area 15 minutes before the fire started.
"The safety of our customers and the communities we serve is our highest priority," the utility said in a statement Thursday.
"We are aware of lawsuits regarding the Camp Fire," the statement continued. "Right now, our primary focus is on supporting first responders and positioning our employees to assess damage, restore service and rebuild infrastructure, and helping our communities."
The suit filed on behalf of Heard and 34 others claims PG&E was contacted over a period of two years about sparks falling from lines in the area where the fire ignited. The utility reportedly said it would make repairs on Nov. 7 but never did, according to the suit.
The lawsuit also says PG&E was aware a fire could break out in the area, having previously warned customers it might shut off power as a precaution among dry and windy conditions.
"Our investigation has revealed that PG&E knew about the high fire risk of danger on Nov. 8 and yet they failed to safely maintain its equipment causing tragic deaths and loss of homes," said Angela Jae Chun, a member of the legal team representing the families.
At least 88 people were killed in the fire, but authorities are still working to account for 196 others. The 153,336-acre blaze ranks as the most destructive in California history, having destroyed 13,972 residences, 528 commercial buildings and 4,293 other structures.
Heard, an injection molding engineer with deep roots in Butte County, purchased his home in 2013. Nine months later, it was destroyed by a fire he says was also sparked by PG&E.
"I just got my life back in order from the first time PG&E burned down my house and now I've lost everything again," he said.
Heard said he joined the suit "because PG&E needs to be stopped and there needs to be a major change to its corporate culture."
"Safety needs to be a priority and PG&E needs to stop risking the lives of others so it can make a profit," he said.
Source: https://www.chicoer.com/2018/11/30/butte-county-35-families-sue-pge-for-camp-fire-losses/
By: Jason Green | jason.green@bayareanewsgroup.com | Bay Area News Group
PUBLISHED:  | UPDATED: